You deserve a first look at the quality of all the reports you'll be getting.
Let's take a free tour of those Ancestry + Health Reports!
For example, your Ancestry Reports will be broken down into three important categories:
Recent (your last 5 generations)
Ancient (up to the last 50 generations!)
Timeline (showing when and where your ancestors entered the family line)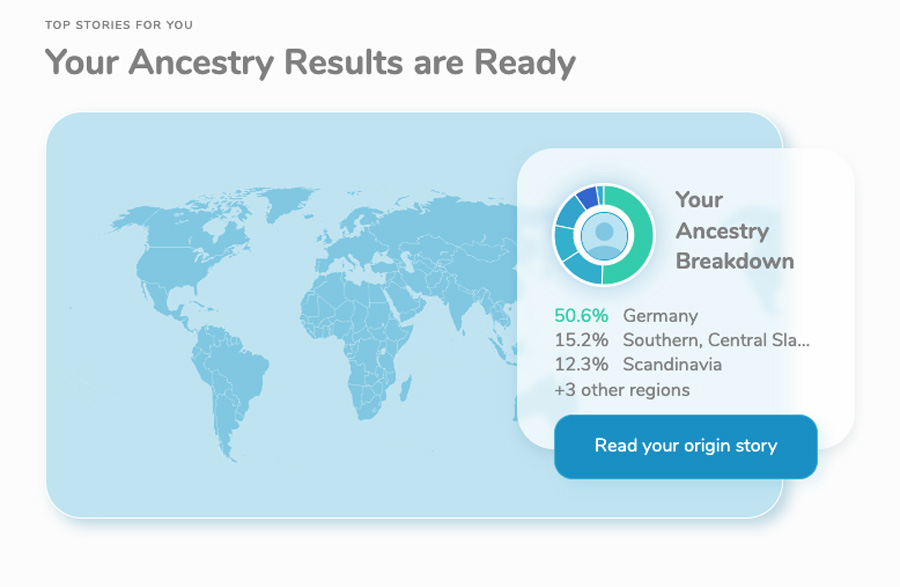 It all begins on your Dashboard revealing your personal Ancestry Breakdown which lists the main percentages of your ethnic background.
Remember, in distant history there were no borders. Migrations of your ancestors passed through and settled in areas for which today we have country names, national flags, and borderlines. Not so for your ancient relatives.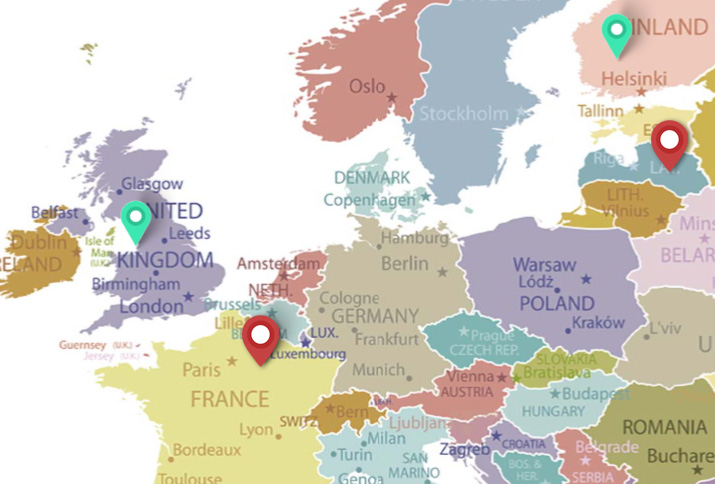 Next, starting with the most Recent Analysis Report, this represents your last 5 generations. This report is based on the genetic makeup currently found most abundant in each of the specific geographic regions. This report should closely match what your parents and grandparents may have told you about your heritage.
Advanced Ancestry Timeline Goes Back Up to 50 Generations!
Our Advanced Ancestry Timeline fully analyzes your entire DNA sequence to determine not only your ancestral history, but its complete timeline as well.
The further back we examine, the more centralized we find our ancestral lines to be.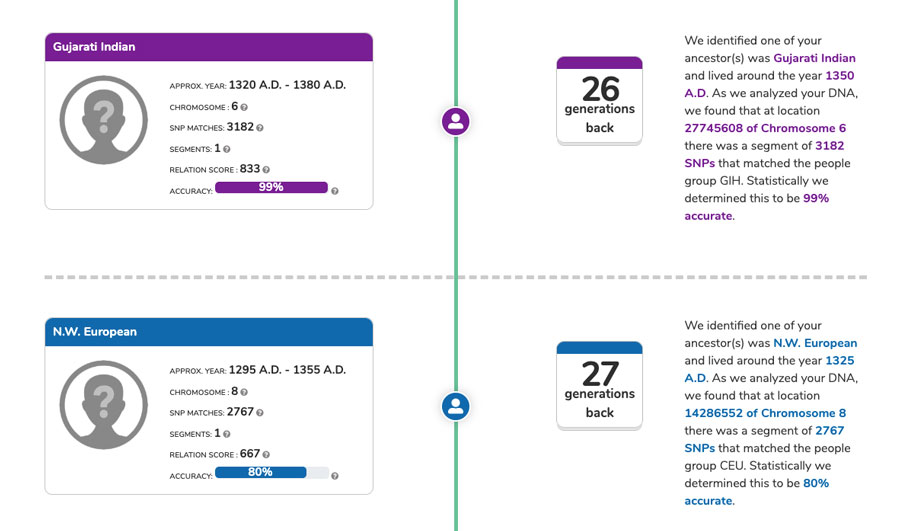 CRI Genetics' Ancestry Timeline goes back up to 50 generations! It gives you a more comprehensive look into your past, with specific years that estimate when certain ancestries entered your family line.
With CRI Genetics, you won't just see that you're 29% Italian. You'll learn when that ancestry entered your timeline.  Imagine finding out you had a forefather that came from Italy...during the Renaissance.
Health Reports Cover Your Physical Genetic Profile, from Head to Toe!
Next comes over 80+ Health Reports including a list of all your genetic traits down to the cellular level, such as how you absorb and metabolize caffeine.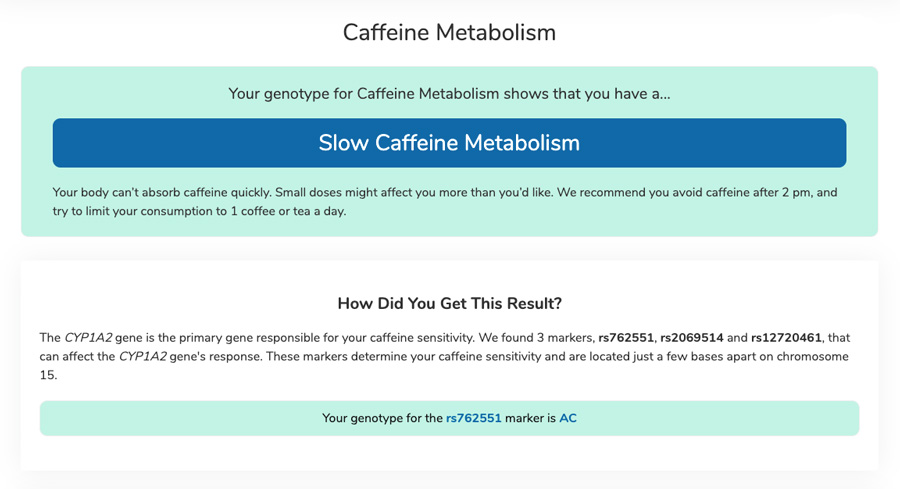 Each trait you discover about yourself is accompanied by a detailed list of "Did You Know?" facts that add even more to your knowledge of YOU.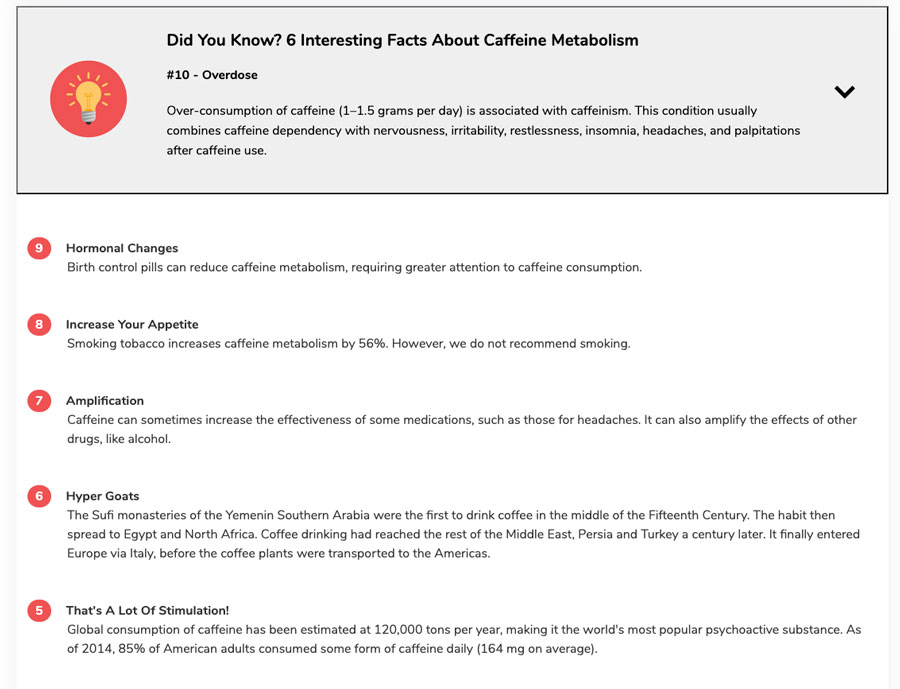 But that's just the beginning! You will get a rich, in-depth overall list of customized reports that cover:
Allergies
Metabolism
Nutrition
Weight Loss
Wellness
Unique Traits
Energy
AND THERE'S MORE!
Your DNA test results are an owner's manual for your body you can use to achieve any health goals you have…
Weight loss, for example…
A DNA test can reveal the ideal diet that's best for you.
With CRI Genetics, you get insights down to specific nutrients and supplements your body is likely to need more of.
Your DNA can even tell you what exercises are best for your body!
The wealth of useful insights a CRI DNA test can give you about yourself is unprecedented.
Bringing it all together—the ancestry breakdowns and 80+ health reports.
Knowledge about yourself is at the heart of it all.
Imagine someone wrote a book about you.
Wouldn't you want to read it???
That's what your DNA is. Right now, it's locked in a vault (your body). To make matters even more complicated, it's too small to see. On top of all that, it's written in a language you can't read!
A CRI DNA test is a safe, effective, and thorough way to translate that book into something you can read.
It tells The Story of YOU. A story that's not just interesting, it's useful.
As Aristotle once said: "Knowing yourself is the beginning of all wisdom."
So, what are you waiting for?
Learn more about what CRI Genetics can do to help you unlock the treasures hidden in your DNA.
Sincerely,

Alexei Fedorov, PhD & The CRI Genetics Team