How is the 100X Ancestry Test Different from a regular DNA Test?
We're glad you asked. The 100X Ancestry Test is an exclusive bundle of advanced ancestry tests not available on CRI's main website. If each of the reports were sold to you separately, even with CRI's competitive pricing, the 100X Ancestry Test with all of its bonuses would still run you $400 or more—all the way up to 799-1200 with the other guys.
You've found the most advanced ancestry test on the market, with the greatest possible value packed into every step. No other test gives you mtDNA, health and wellness, AND dual ancestry reports, as well as the most detailed ancestry timeline in the industry. The 100X Ancestry Test is something you simply won't find anywhere else. For the combined value provided, it's unbeatable.
Why Choose CRI Genetics?
CRI Genetics is an advanced team of Geneticists, Anthropologists, and Social Scientists. We are passionate about providing our customers with the most accurate (and interesting!) DNA-based reports.
We use DNA analysis algorithms designed by renowned Molecular Geneticist Alexei Fedorov, who was apprentice to Nobel Prize winning scientist Walter Gilbert at Harvard University. Alexei's algorithm uses 527,414 hand-chosen genetic markers. Simply put, the genetic expertise at CRI Genetics is unmatched anywhere else in the business…
That means that you get fascinating Ancestry reports and useful Health reports that are not just detailed, but are also extraordinarily accurate. We're very confident you will love every step of the process at CRI Genetics.
How Does The 8 Week Efficiency Guarantee Work?
We're glad you asked! We are one of the only DNA testing companies that offer any kind of money-back guarantee. We guarantee to deliver your genetic reports in fewer than 8 weeks.
Those 8 weeks begin the day that our lab receives your DNA sample, provided your DNA passes quality analysis.
Your DNA passes quality analysis based on these factors:
-Is there enough DNA in your sample to complete extraction and analysis?
-Will our software be able to read the DNA once it's extracted? Has the DNA been damaged at all during shipping?
-If we run into any issues, we will let you know right away. We will gladly issue you a new kit free of charge if we need to.
Do I need to take 6 different ancestry tests to get my results?
No! Due to the advanced nature of Alexei's system, all of the reports you receive with the 100X Ancestry Test can be achieved with one simple cheek swab. No skin pricks, and no going back and forth with our laboratory. ONE simple test gives you all of the results listed above.
What makes CRI different from other ancestry companies?
CRI is the only DNA testing company led and founded by a professional geneticist. Alexei Fedorov, PhD has 35 years of experience, trained at Harvard, and wrote a landmark paper with Nobel prizewinner Walter Gilbert.
CRI is also privately owned, meaning they won't sell your DNA to big pharma and the government. They keep your data 100% private and secure—because they answer to you, the customer.
What are your shipping policies?
-All orders are shipped by USPS from our US warehouse, and should arrive in 3-5 calendar days.
-You will receive a tracking number in your email when your order is shipped, usually within 24 hours of your initial order.
-All orders can be cancelled up until you get your results. If at any time you decide you don't want your kit, feel free to contact our customer service team to cancel your order for a full refund.
-After we receive your kit, your 8-week guarantee automatically starts. If we don't get you your results within 8 weeks or less, you don't pay!
How do I track the progress of my kit?
-You will receive a tracking number from USPS in your email, within 24 hours of your order.
-Our lab will update you when they receive your kit, as well as with each step along the way of DNA analysis. In all, you should receive 7-8 updates over the course of your DNA journey, right up to the moment you receive your results!
Where is my barcode?
Your kit number is located at the side of your box just below the barcode. The kit number contains 2 letters followed by 6 numbers.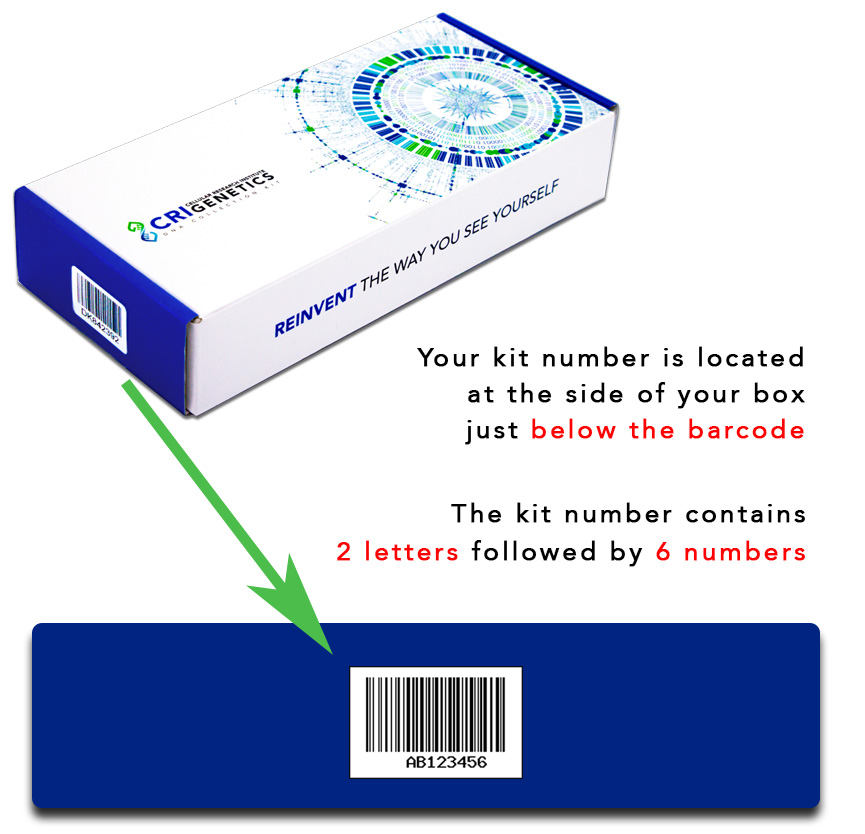 How Can I Contact Customer Service?
If you have any additional questions that cannot be answered here, or if you prefer to place your order over the phone rather than online, feel free to give us a call at: 1-800-571-9216.
We're also available by email at: Support@CRIGenetics.com.