Age Spots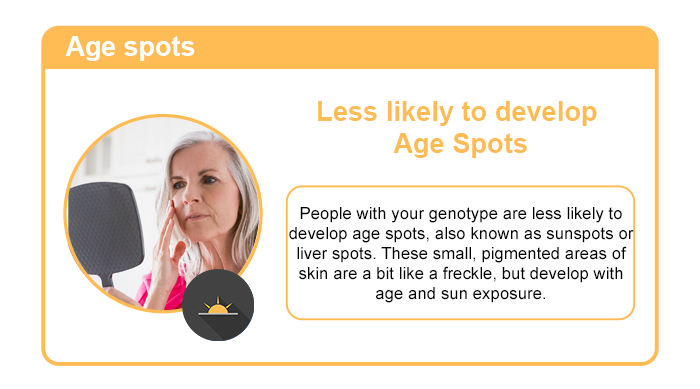 How likely are you to develop age spots?
Also known as sunspots or liver spots, sunspots are small, pigmented areas of skin similar to freckles, but develop with age and sun exposure. Although they're harmless, some people don't like how they look.
The gene variant for age spots is close to the skin color gene, and many of these other variants are associated with skin-related traits like freckling and sun sensitivity. Knowing your genetics can help you learn about your predisposition for age spots and what you can do about them.
Greying Hair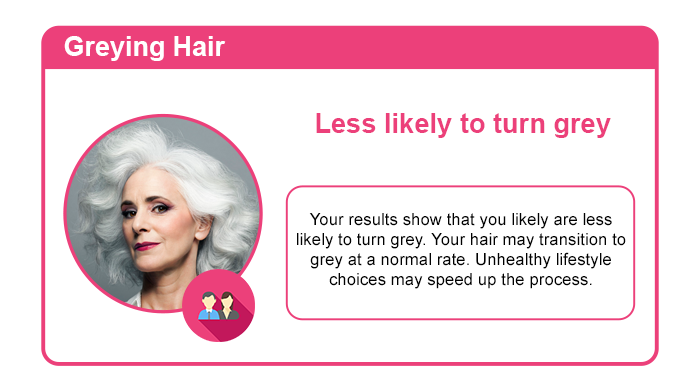 Are you more likely to go grey?
Your genes may have something to do with your hair's natural tendency to go grey (before your counterparts). Unhealthy lifestyle choices may speed up the process. However, managing your stress levels and eating a diet rich in B12 may help your hair grey at a normal rate.
The gene associated with greying hair is often linked to skin, hair, and eye pigmentation as well. It interacts with another gene that works to activate an enzyme essential for the synthesis or melanin, which affects the color of your skin and hair. Knowing your genetics can help you understand your likelihood of having grey hair and what to do about it.
Photoaging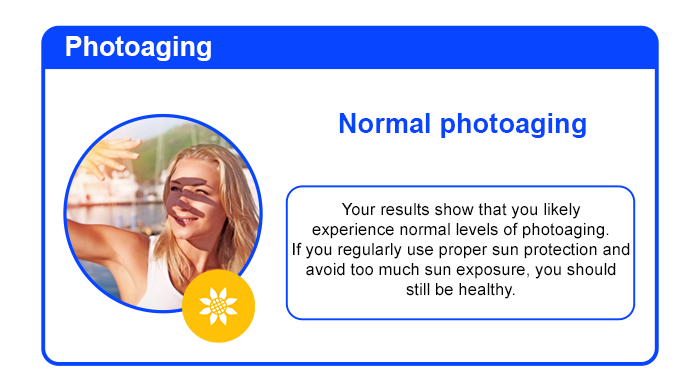 How much melanin are you likely to produce?
Photoaging is skin damage caused by many years of sun exposure, specifically ultraviolet (UV) radiation. Although sunlight is the main culprit of photoaging, some people are more prone than others to be affected by UV radiation based on their genetic makeup.
Your melanocytes are responsible for producing the protective, skin-darkening pigment melanin. The activity of your melanocytes helps protect your skin from UV rays as well as skin cancer. A change in a gene may reduce melanocyte activity and lead to more severe photoaging in certain cases
Skin Antioxidant Capacity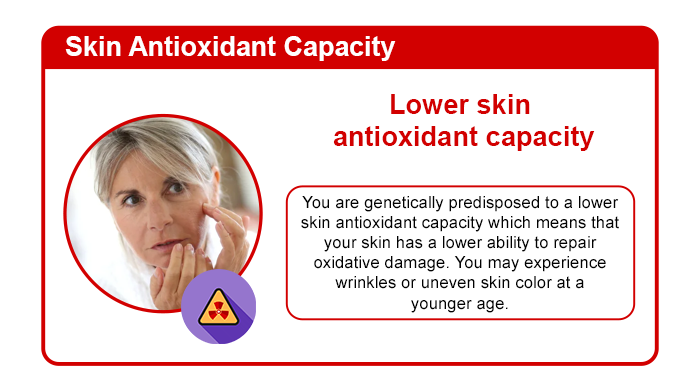 How good is your skin at repairing oxidative damage?
Skin antioxidant capacity is the skin's natural ability to repair oxidative damage. There are many sources of oxidative damage, in particular UV radiation from the sun. This type of damage influences the appearance of skin aging, causing discoloration and wrinkles.
Your body has a number of genes coding for antioxidant enzymes. A gene variant can affect the activity of a certain enzyme, which in turn can affect the skin's natural antioxidant ability. Understanding your genetics when it comes to your body's ability to produce certain enzymes can help you make more informed decisions.
Vitamin E Absorption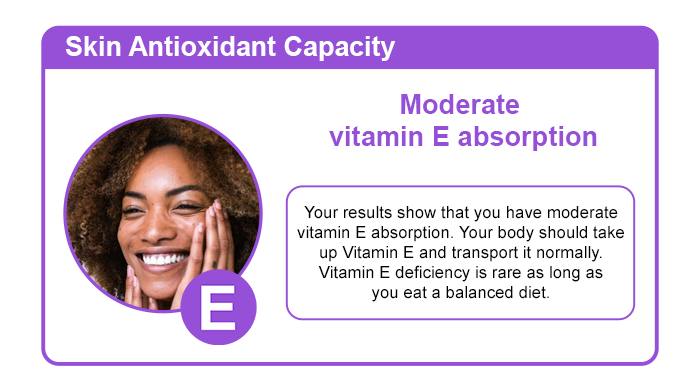 When free radicals come knocking at your door, who you gonna call?
Chemicals called free radicals are produced when fats are broken down in the body. Too many free radicals in the body can lead to various health issues, including poorer skin appearance and lowered immunity. That's where Vitamin E comes in. A potent antioxidant, Vitamin E can help naturally eliminate these free radicals from your body.
Studies reveal that a few genes may play a role in Vitamin E Absorption. The first gene codes for a membrane receptor, which is a type of protein that sits on the surface of cells. The second gene helps regulate High Density Lipoproteins (HDL) levels in the blood. A change in either of these two genes can lead to a change in Vitamin E uptake.
Vitamin D Absorption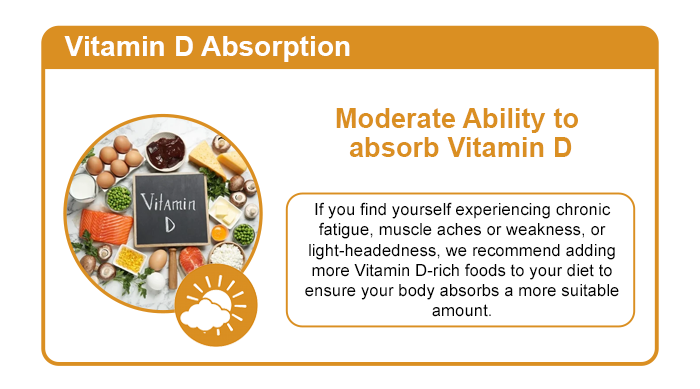 How well does your body convert the inactive forms of Vitamin D to the active forms?
Vitamin D is an essential vitamin necessary for your body's bone structure and several bodily functions, including bone formation and repair, cardiovascular health, and brain functioning. It is typically produced by your skin when you are exposed to sunlight, but it can also be absorbed via food or beverage.
There are at least two genetic markers that help indicate your genetic potential for Vitamin D absorption, and one gene is directly responsible for your ability to absorb and produce Vitamin D. Knowing your likelihood for being able to convert inactive forms of Vitamin D to active forms can help you look ahead and get the proper amount of this vitamin into your diet.