Caffeine Metabolism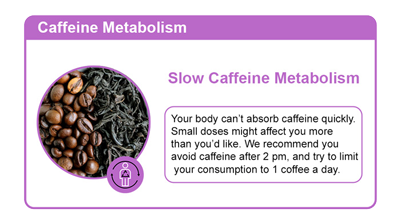 Are you a fast or slow metabolizer of caffeine?
Here are some useful facts to help take the edge off metabolizing this information:
Approximately 10% of the population are fast caffeine metabolizers
Fast caffeine metabolism is a recessive trait (you need a copy from both parents)
Slow caffeine metabolism is a dominant trait (you only need one copy to express it)
People can build up a tolerance to caffeine, which can lead to a faster metabolism
Fast metabolizers need more caffeine than their slow metabolizing counterparts to feel its effects
The average person consumes around 200mg per day (doctors don't recommend exceeding 400mg per day)
Age, body weight, smoking history, pregnancy, liver health, and drug interactions can all influence your caffeine metabolism and sensitivity. If you're looking for more energy throughout the day and don't know where to begin, it could be helpful to learn which genetic marker you have when it comes to caffeine metabolism. The more you know.
Caffeine Anxiety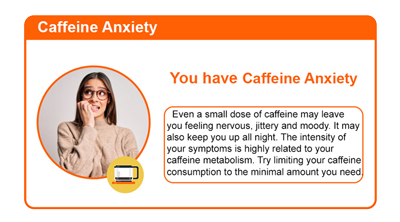 Are you a pro with a cup of joe, or does caffeine give you the jitters?
Your genotype may just be the deciding factor in how sensitive you are to caffeine. This report can tell you your body's likely response to caffeine, as well as optimal caffeine levels for you in a day. And if you don't think that your sleep, focus, and energy levels are affected by your caffeine intake, think again. The intensity of your symptoms is closely linked to your caffeine metabolism.
Your body is not something to be shrouded in mystery. It's your body, and it has a lot to tell you. When you get to the bottom of what makes you tick, you can make more informed decisions and live the life you've always wanted.
Choline Deficiency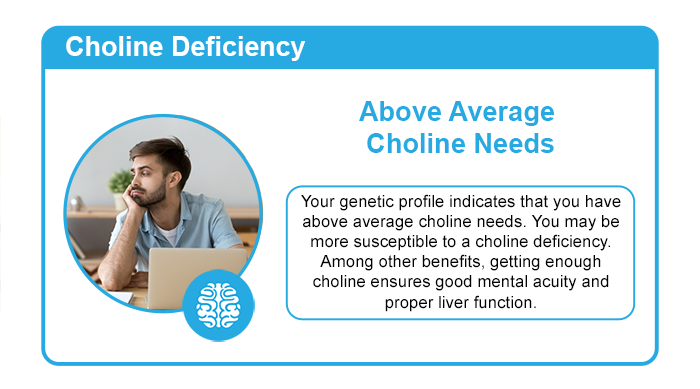 What do your enzymes say when it comes to choline?
Enzymes are just another word for proteins, and they're super important because they help speed up chemical reactions in the body. They're essential for liver function, digestion, and so much more. Too much or too little of a certain enzyme can cause health issues, and that's where your genes come in.
There are a few genes that play a role in choline deficiency. Sometimes changes in these genes can cause them to malfunction, meaning your body may not process choline as efficiently. Ultimately, the biggest factor in choline deficiency is your diet, but it's good to know what your genetic markers say about your choline needs too.
Vitamin B Absorption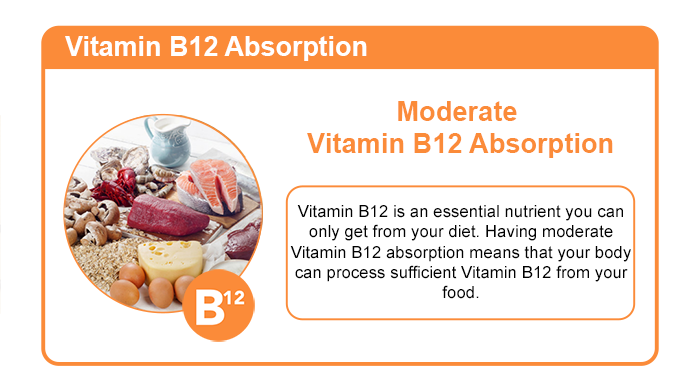 How diverse is your gut microbiome?
When it comes to absorption of dietary Vitamin B12, the composition of your gut microbiome matters. People with changes in their FUT2 gene have less diverse gut microbiomes, leading to poor absorption of this vitamin. There is another gene that plays a role in how well your body absorbs Vitamin B12, and a change in this marker can lead to decreased uptake.
A Vitamin B12 deficiency can manifest as neurological damage or anemia. Alcohol, age, and certain medications can make the problem worse. It could be helpful to understand what your genes are saying about you and this essential nutrient so that you can prepare for your future.
Magnesium Deficiency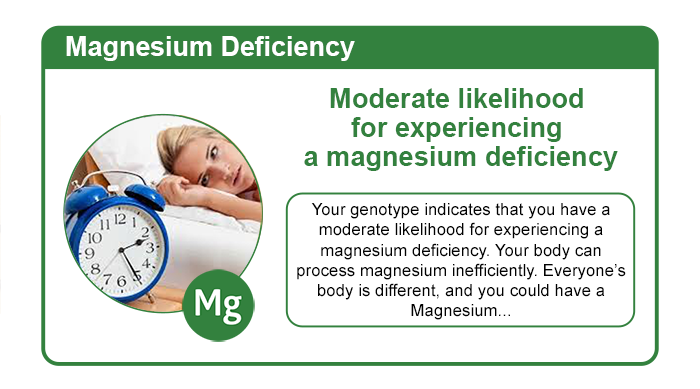 Is something blocking magnesium from entering your body?
There are two genes that play a role in magnesium deficiency. The first deals with the amount of mucus in your intestines and can effectively block magnesium from entering your body. The second plays an important role in electrolyte balance in your cells. Diet and lifestyle are huge factors in how much magnesium you're getting, but it can be about more than what you're eating—your DNA can tell another story.
You could have a genetic predisposition that deals with mucus or electrolytes that you never knew about. Once you better understand your genes and how they work, you can make more informed decisions about your health.
Deep Sleep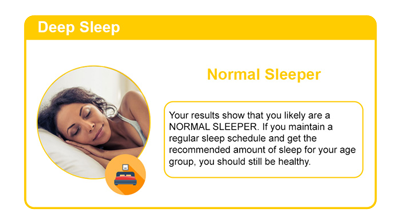 When it comes to sleep regulation, it's all about the enzyme, adenosine.
Higher levels of this enzyme mean you may experience:
lower sleep efficiency
more interrupted sleep
overall lighter sleep
On the bright side, it also means that your body can function optimally with less sleep. You should be able to recover faster from a long night shift, jet lag, or an all-nighter more easily than your deep-sleeping counterparts. Since most people will sleep for about one third of their life, it's no wonder we place such importance on sleep quality.
How about you? Want to go deeper into sleep and into your genetics so you can catch the zees you deserve? The more information you have about your sleep traits, the more you'll be able to prioritize energy, focus, and rest in your own life.