C-Reactive Protein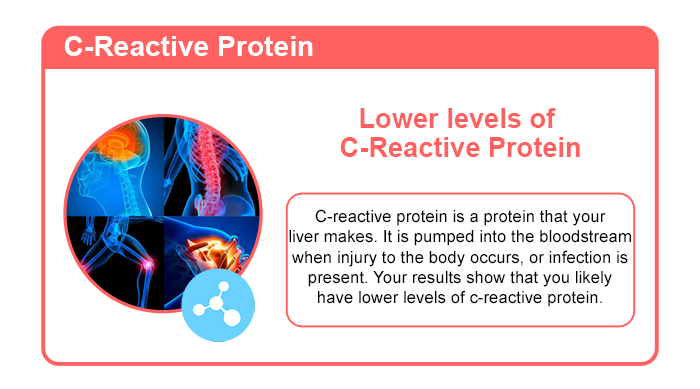 Are you more likely to experience inflammation?
C-reactive protein is a protein that your liver makes. It is pumped into the bloodstream when injury to the body occurs, or when infection is present. Variation in c-reactive protein levels result from variations in the c-reactive gene and can impact the body's inflammatory response.
Higher levels of c-reactive protein mean you are more likely to experience inflammation. Certain foods can cause inflammation and increase your c-reactive protein levels, so it's important to know your baseline variant so you can incorporate exercise, healthy eating, and good habits so you can stay well.
EIMD (Exercise Induced Muscle Damage)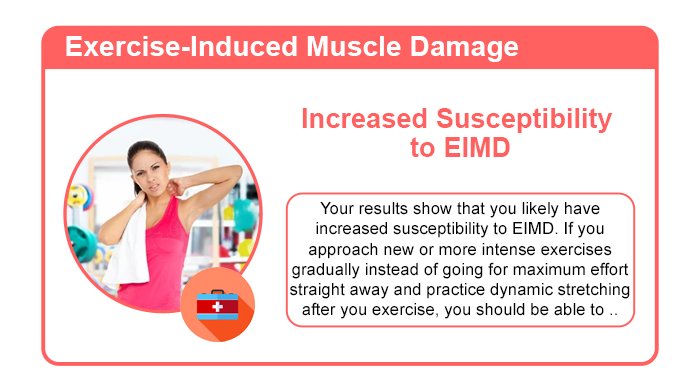 Feeling sore after exercise and aren't sure why?
The phenomenon that refers to the temporary and repairable damage suffered by your skeletal muscles after exercise is known as exercise-induced muscle damage (EIMD). It is characterized by muscle fatigue, inflammation, and soreness during the first 12-72 hours post exercise.
Enter cytokines, which are small proteins that support healthy immune system function. The release of certain cytokines can help with muscle degeneration and regeneration by producing a localized inflammatory response in areas with muscle damage. Your genes play a role into your susceptibility to EIMD.
Salt Sensitivity (Blood Pressure)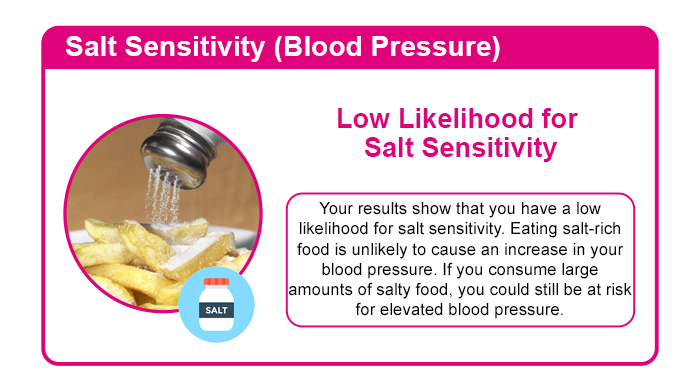 Are you "salt sensitive?"
Studies show that a few genes may play a role in salt sensitivity. Differences in these genetic markers can have profound implications. One gene in particular regulates how your kidneys transport sodium. Individuals with a change in this marker are less efficient at removing sodium from their bodies.
What this means is that these people face a greater risk of high blood pressure with a high-sodium diet. If your body tends to keep sodium you are may be at risk for high blood pressure. If you're not sure of your genetic marker when it comes to salt sensitivity, it might be useful to know so you can plan and eat accordingly.
Testosterone Levels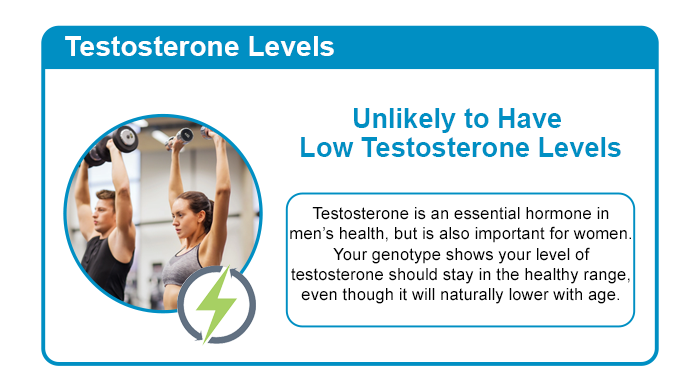 How much testosterone is your body likely to produce?
Being at risk for low testosterone levels is no joke. The hormone is essential to men's health, but it's also important for women. Testosterone levels are regulated by several genes, but there are 3 main genetic markers that play a role, and one of them, men inherit from their mother.
Since testosterone affects many facets of life, including energy, focus, and mood, it's important to keep your levels in check. Knowing your genetics when it comes to this essential hormone can make all the difference in your day-to-day activities.
Omega-3 Absorption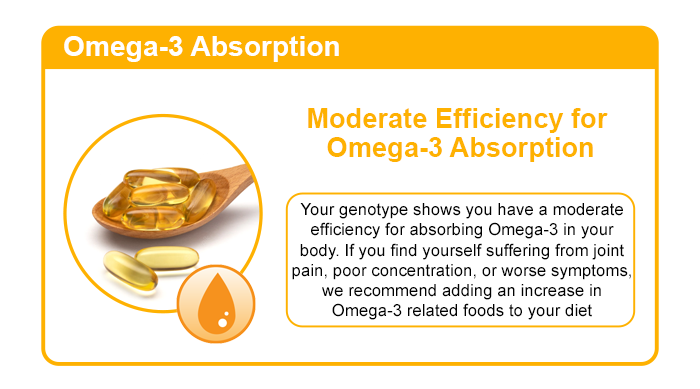 How much essential Omega-3 fatty acids is your body likely to absorb?
Omega-3's are fatty acids found in foods. Your body's ability to breakdown Omega-3 fatty acids is essential for preventing and managing heart disease. One enzyme specifically breaks down Omega-3's for use, but we examine at least markers to determine your potential for Omega-3 absorption.
People with a high efficiency for absorbing fatty acids from the foods they eat (think fish and flaxseed) tend to be at lower risk for health issues, especially those related to cardiological health. Since Omega-3's perform vital structural and chemical roles in the body, it's important to know how well we might absorb these fatty acids.
Vitamin D Absorption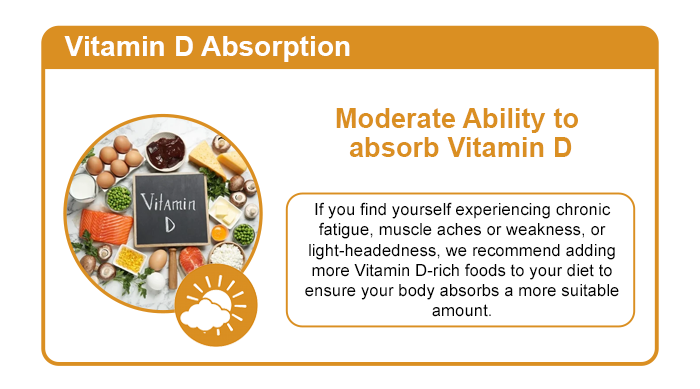 How well does your body convert the inactive forms of Vitamin D to the active forms?
Vitamin D is an essential vitamin necessary for your body's bone structure and several bodily functions, including bone formation and repair, cardiovascular health, and brain functioning. It is typically produced by your skin when you are exposed to sunlight, but it can also be absorbed via food or beverage.
There are at least two genetic markers that help indicate your genetic potential for Vitamin D absorption, and one gene is directly responsible for your ability to absorb and produce Vitamin D. Knowing your likelihood for being able to convert inactive forms of Vitamin D to active forms can help you look ahead and get the proper amount of this vitamin into your diet.