Get Our Free Guide on 3 Essential Tips
To Know Before Buying a Paternity Test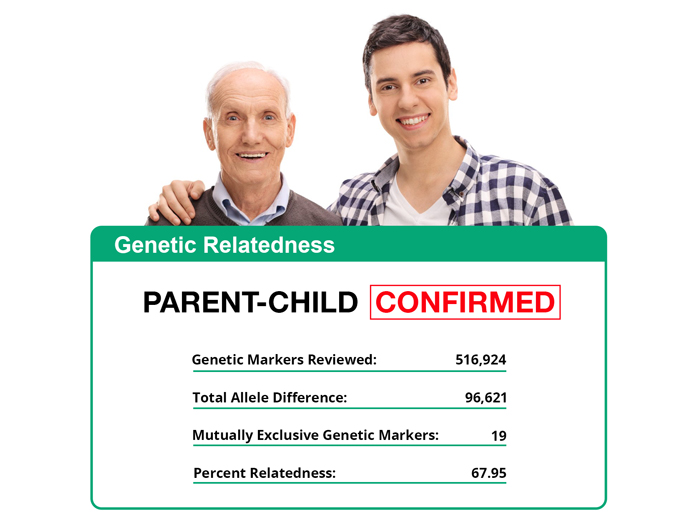 PATERNITY QUESTIONS?
YOUR DNA HAS ANSWERS.
527,414 genetic markers analyzed for a much deeper understanding of your filiation
Our proprietary analysis reveals your genetic relatedness to the 0.01%
Private and discreet at-home paternity test for ultimate confidentiality
Algorithm created by Dr. Fedorov, PhD., with 35+ years' experience in genetics
Analyzed In CLIA-Certified US Labs using Next-Generation Sequencing
CRI's top-rated customer service team provides helpful support for any questions you may have along the way
Results in 8 Weeks or your money back.
Guaranteed.
Begin Your Journey Inward
Select An Option Below That Fits You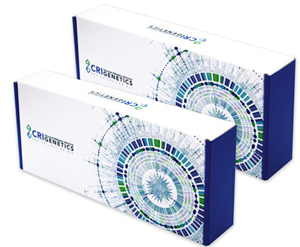 2 Paternity Kits + Analysis
---
2 at-home paternity DNA kits
99.99% accuracy for complete of peace of mind
Your genetic relatedness score to the .01%
Certificate of Filiation detailing final results
FREE Bonus Reports: Ancestry + Traits Bundle
---
The Most In-depth Paternity Test Compared to Competitor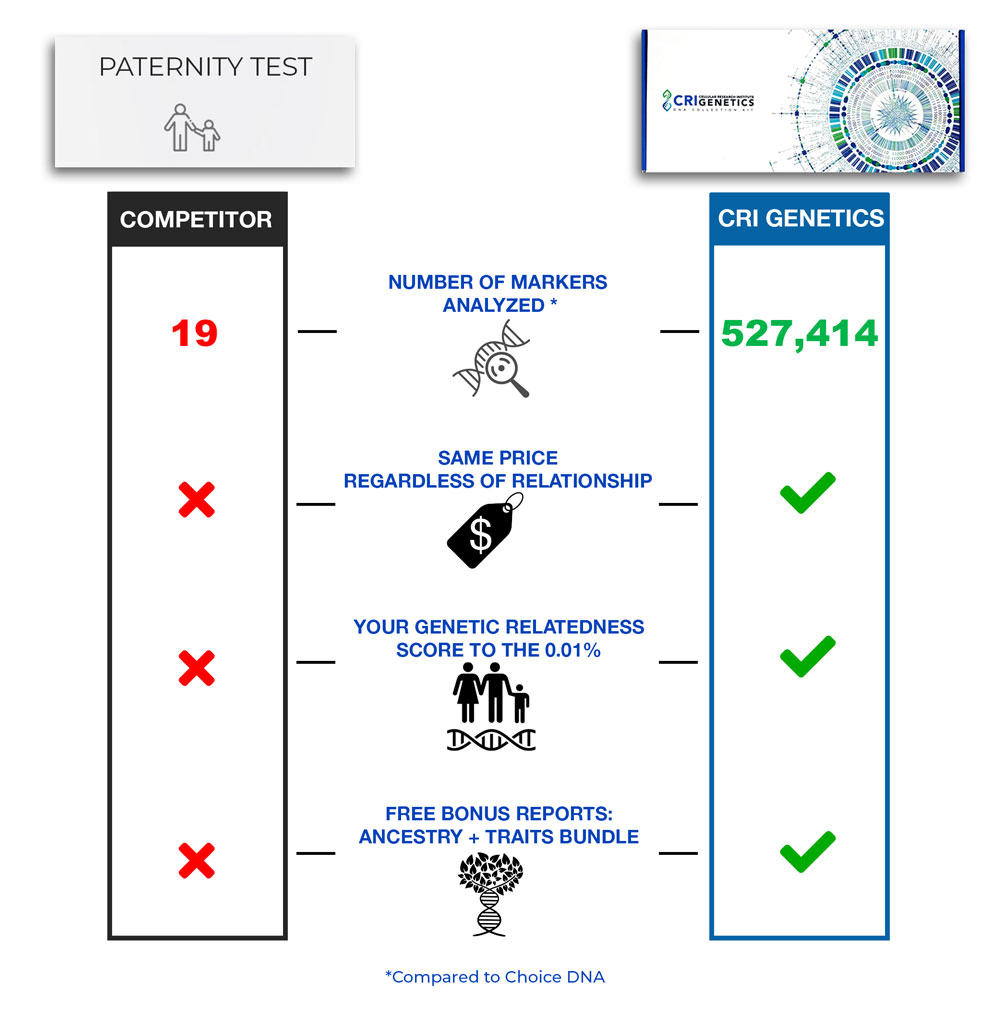 527,414 Genetic Markers Checked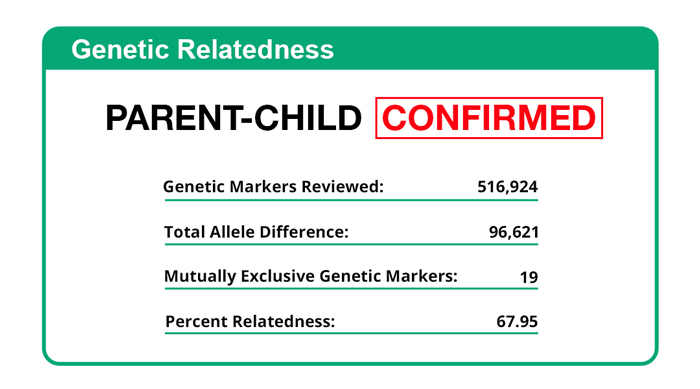 Detailed Genetic Relatedness Results
Confirm Any Relationship,
Know Your Filiation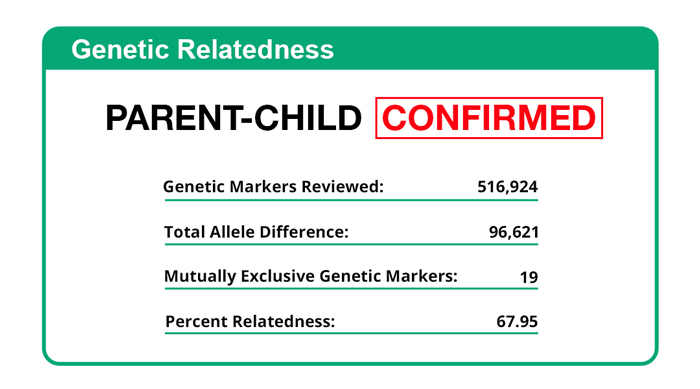 Your Certificate of Filiation provides results that are 99.99% accurate so you can have complete peace of mind
Get a genetic relatedness score that determines paternity or how the subjects are related
Determine the relationship between any 2 people with 2 kits—flat pricing with no hidden fees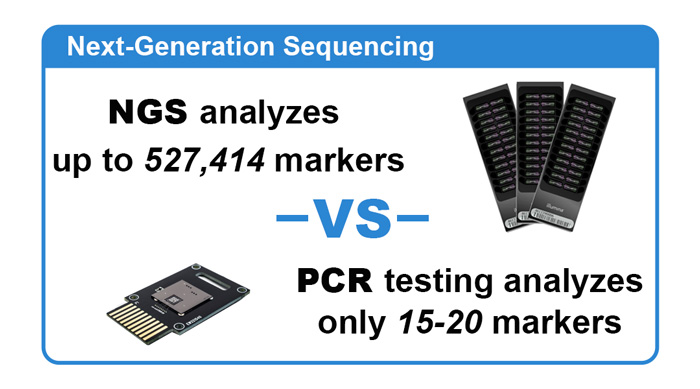 Next-Generation Sequencing (NGS) Assay
More Genetic Markers,
More In-Depth Analysis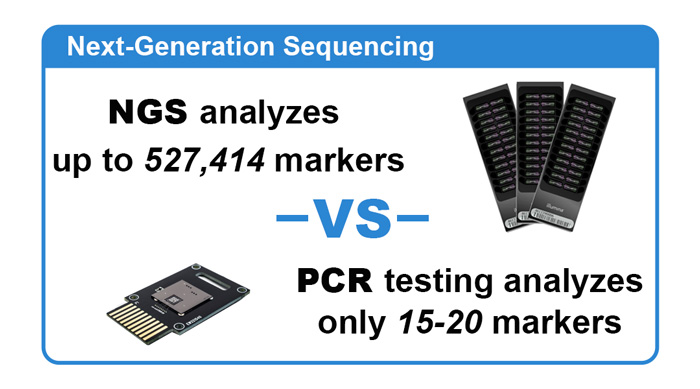 527,414 genetic markers analyzed for an even deeper understanding of the paternity in question
Get the most in-depth analysis with our custom Illumina chip, which gives the most detailed relatedness results
Next Generation Sequencing is much newer technology than traditional PCR testing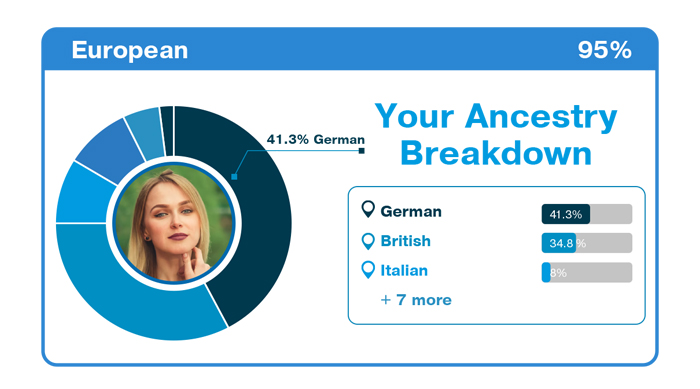 FREE Bonus Reports:
ANCESTRY + TRAITS
The Treasures Of Your Ancestors
Are In Your DNA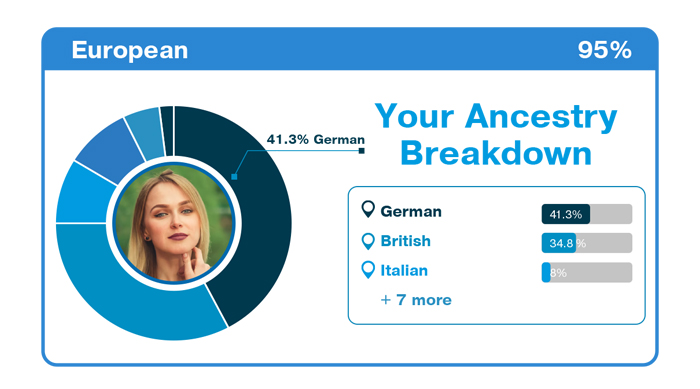 Your Ancestry Timeline Report adds context to your Dual Ancestry results, detailing your past up to 50 generations back
Your Recent and Advanced Ancestry Reports offer detailed and in-depth results about your ancestry breakdown
15 personalized Trait Reports reveal the unique characteristics powered by your own genes
No More Guessing. Just the Truth.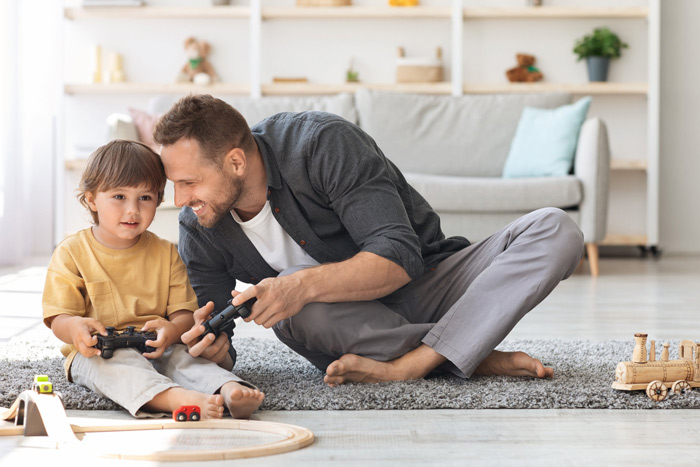 Get Your Answer From the Comfort of Your Own Home
Get the Paternity Answers You Need
Wondering if you're the father of a child? Unsure who your biological father is? Maybe you simply want to check the paternity of your child? Whatever your reason, a CRI Genetics paternity test can help give you answers for personal knowledge or peace of mind.
You can easily take our DNA paternity test at home. First, collect your DNA sample and then send it into the lab where we'll perform the test. Since the collection is performed and submitted by you at home, the results are not court-admissible.
Peace of Mind from the Comfort of Home
Everyone's situation is unique and different. CRI Genetics is here to help give you the answers you want, all from the comfort of your own home.
At-Home DNA Tests we offer:
Paternity
Grandparents
Siblings
Twins
Parent-Child
Uncle
Aunt
Cousin
Three Simple Steps To Paternity DNA Testing
All from the comfort of your home.
2. Swab & Ship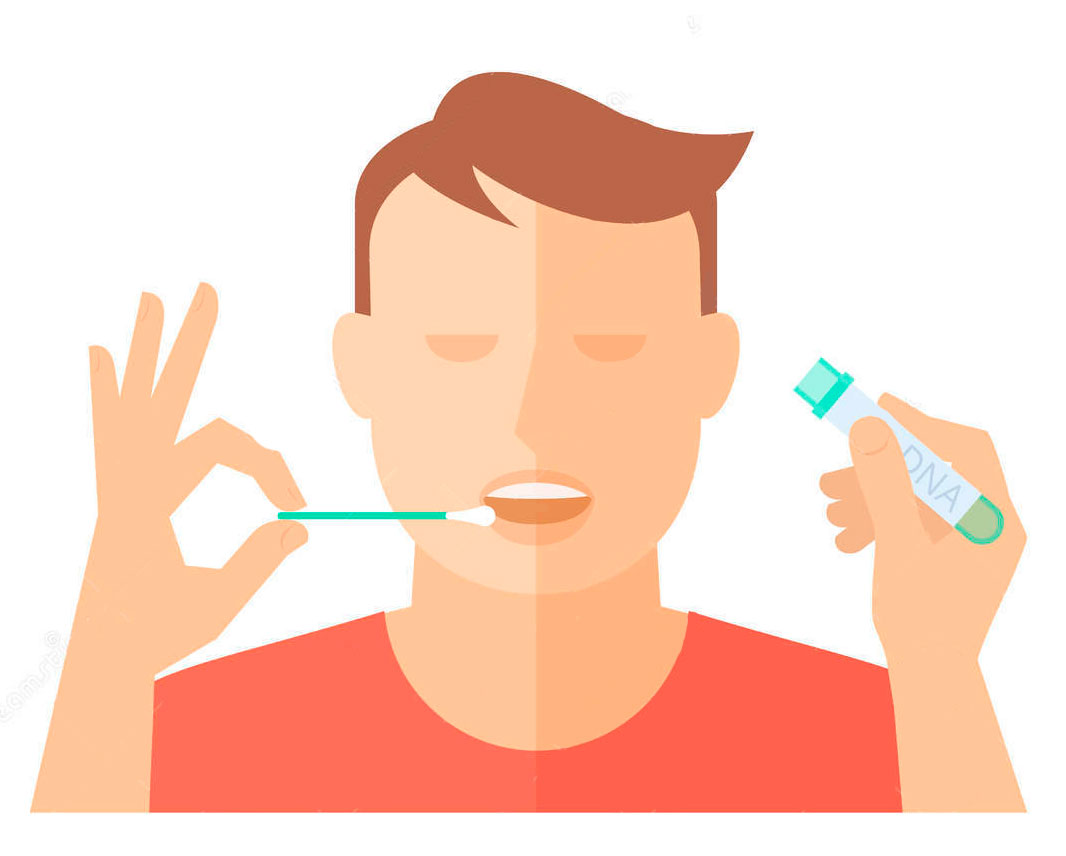 Your DNA kit will come with detailed instructions. Collect your DNA samples and mail them back to us in the pre-paid package.
3. Explore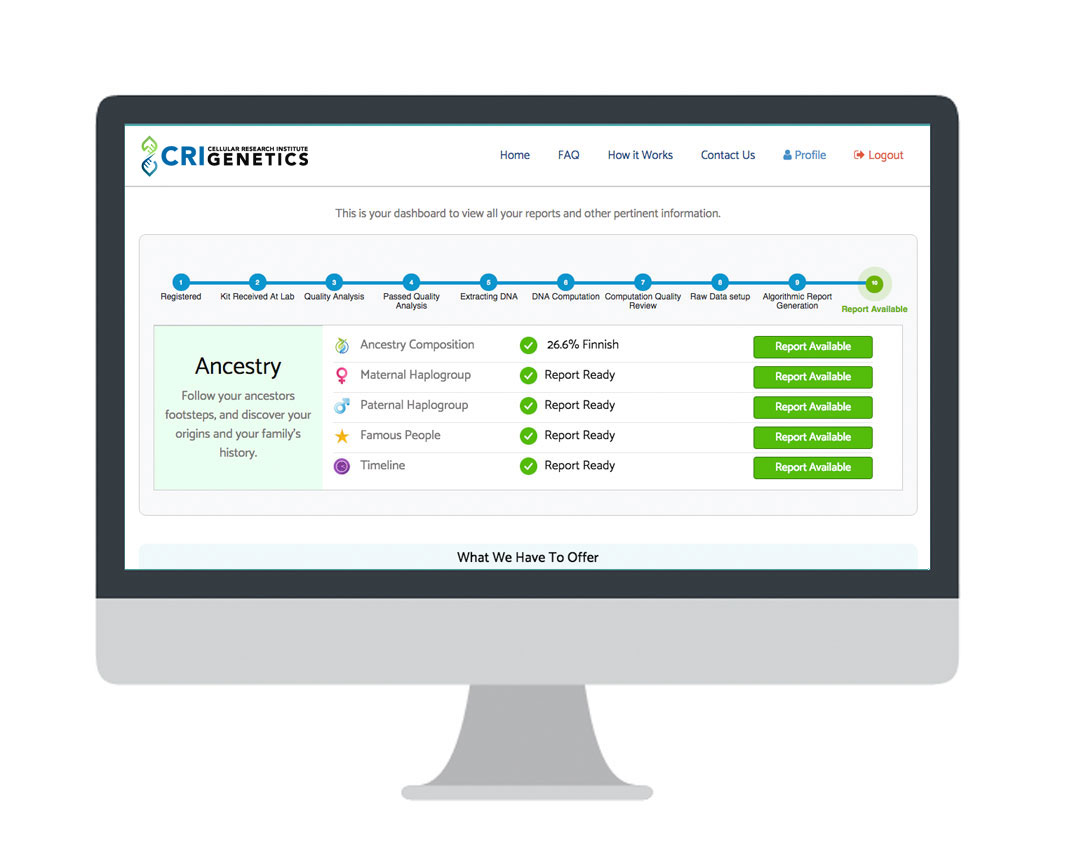 You will receive an email 6-8 weeks later letting you know that your reports are ready. Log into your account and explore.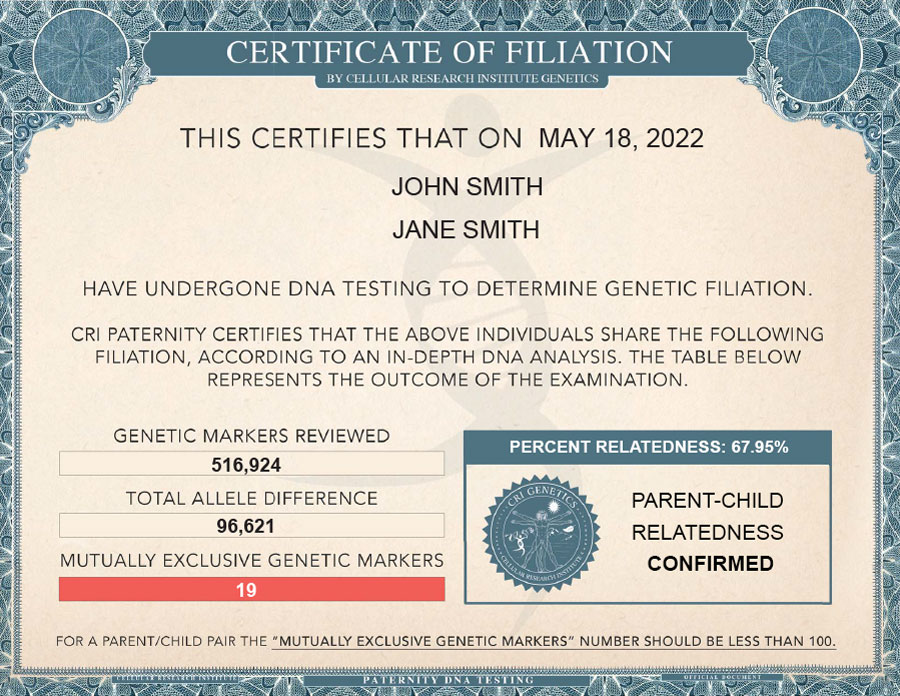 8-Week Guarantee
8-Week Efficiency Guarantee – The lab process of examining DNA can be very time-consuming, especially if there are several customer samples coming in at once. At CRI Genetics, we offer a unique "Efficiency Guarantee" to ensure that you're protected from delays. If we can't get your reports ready within 8 weeks of receiving your DNA, you get your money back. This doesn't happen often, but if it happens to you, we don't want you to pay for your reports!(most get done within 4 weeks once received at the lab)
Your information is secure – The moment we receive your DNA sample, we separate all personal information from it and encrypt ALL data. From that moment forward, we only know your DNA through a random serial number on your DNA collection kit. We do not share your information without your explicit consent, and we take extra steps to help protect against security breaches.
We're very confident you will be satisfied.
About Us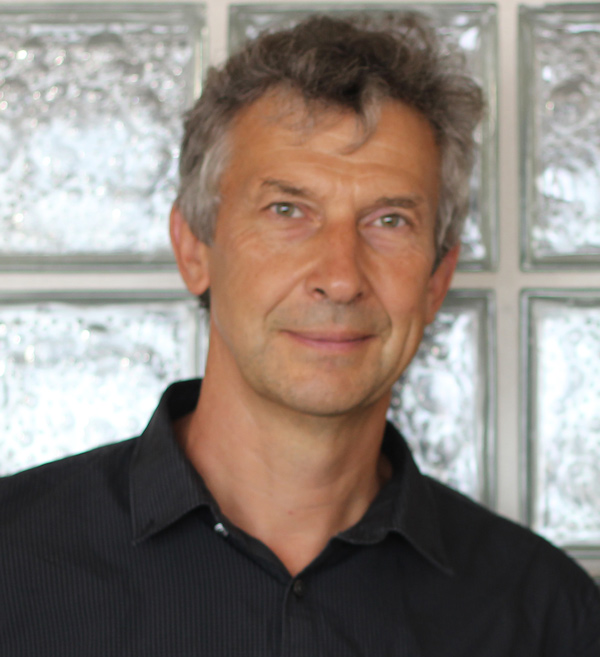 Our mission at CRI Genetics (Cellular Research Institute, Genetics Department) is to unlock complex information from your DNA and present it to you in a way that's interesting, useful, and easy to understand. We want to help you learn more about yourself and find ways to improve your life through genetic testing.
Our primary goal is to improve human life and further mankind's understanding of the human genome. Not only do we provide advanced genetic reports to consumers, but we also actively participate in scientific research. We believe genetic analysis is the future of medicine and we're excited to play a role in solving complex medical problems.
Frequently Asked Questions
Get Our Free Guide on 3 Essential Tips
To Know Before Buying a Paternity Test