Welcome...
I'm glad you liked your ancestry reports...
...And I'm happy to tell you that there's so much more for you to learn about yourself.
There are more than 60 unique genetic insights waiting to be unlocked on your account
They'll show you more details about your individual reports than you ever thought possible...
Not only will you get general information about your. metabolism, disease risks, and caffeine sensitivity, you will even get specific advice you can USE to live the healthiest, most fulfilling life possible!
ALL this and MORE at the absolute best value on the market...
I guarantee it.
Each of these reports is valued at $50 or more on their own...
You can unlock them ALL at once at a savings of over $3,000.
That's a HUGE discount of up to 98% OFF!
Here's a Sneak Peak of the reports you get within 48 hours of subscribing…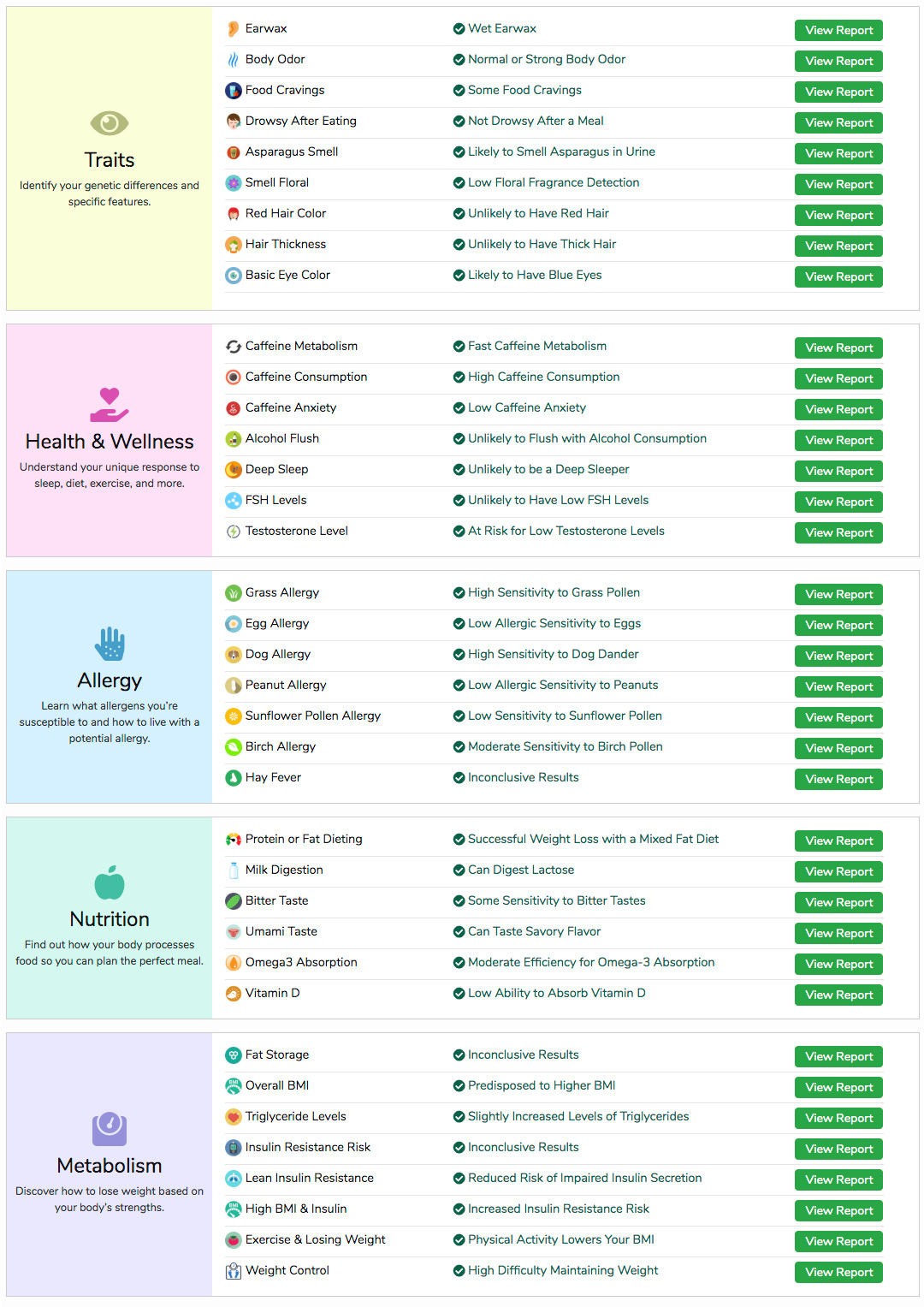 See fully detailed sample Omega 3 report below: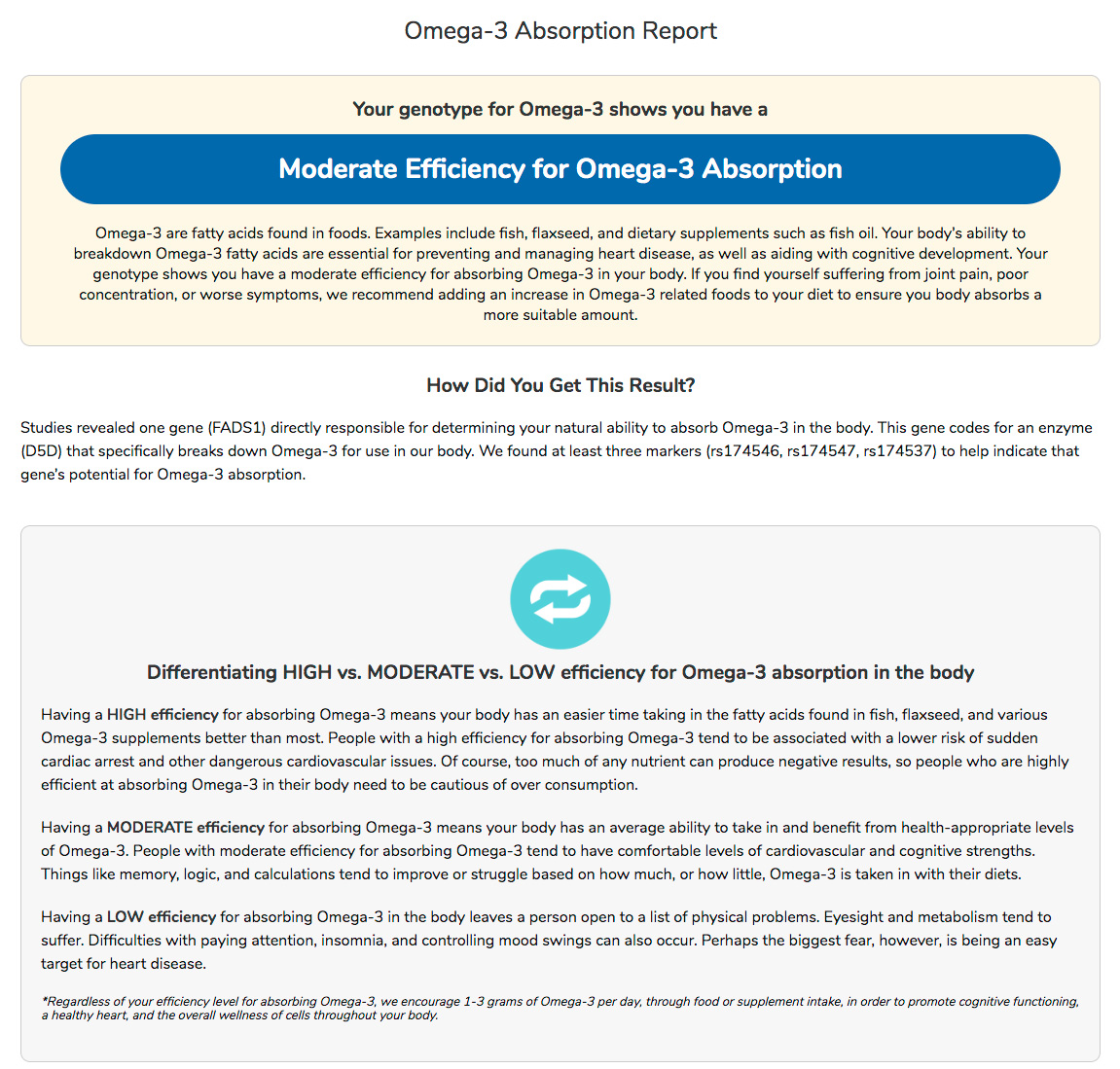 Omega-3 Need Report – Omega-3 fatty acids are a type of nutrient that support your brain and heart health. Believe it or not, your genes may tell us whether you have a raised need for Omega-3's—with a recommendation to help boost your Omega-3 intake!
Allergy Reports – You may already know if you have a major allergy, but many people struggle with minor problems like unexplainable skin rashes or abdominal pain without knowing that they are genetically more sensitive to certain types of allergens. We'll help you find out
Milk Digestion Report – Some people lose the ability to digest the lactose in dairy products as an adult. This ability is determined by your DNA! If you're trying to life a healthy lifestyle or struggle with any sort of digestive issues, this report is a MUST READ.
Weight Loss Blueprint – There are many genetic factors that influence how your body gains and loses weight, including how your body stores fat and what the most effective diet would be for someone with your genes. We'll give you an easy-to-follow road map that will help you hit your weight loss goals!
Ear Wax Report – What type of ear wax do you have? What does it mean in your day to day life? When you read this unique genetic report, you'll be surprised by how much of an impact something as simple as ear wax can have.
Taste Reports – Are there certain flavors you can't taste? You likely know if you can taste a certain flavor, but you might not be aware of how that taste affects your health. If you can't taste a certain flavor, you may have been living your whole life not knowing that you were missing out! Some flavors are better off going untasted anyway…
Body Odor Report – Believe it or not, there are genes that influence the type of body odor you have. Some people have NO body odor at all! You probably already know if you have body odor—My new report will tell you what your DNA says about it, along with some fun facts and surprising benefits you may not have known before!
Food Cravings Report – Some people experience food cravings more than others. These food cravings are the result of how satisfied a person feels after a meal. This is a sensation controlled by—you guessed it—your genes. I'll tell you how prone you might be to food cravings and hopefully help you figure out how to cope with them.
Caffeine Reports – I'll tell you what your DNA says about how much caffeine you consume, how well your body processes it, and what it effects it may be having in your every day life. ALL of this useful information will be contained in 3 separate reports.
This is just the beginning…
There's so much more to come…
I'm very excited for you to be a part of it…
If you join the VIP List, you can expect AT LEAST one report like the ones listed above EVERY MONTH.
…And if I ever go more than 2 months without releasing a report?
You get your money back.
So hop in and enjoy the ride…