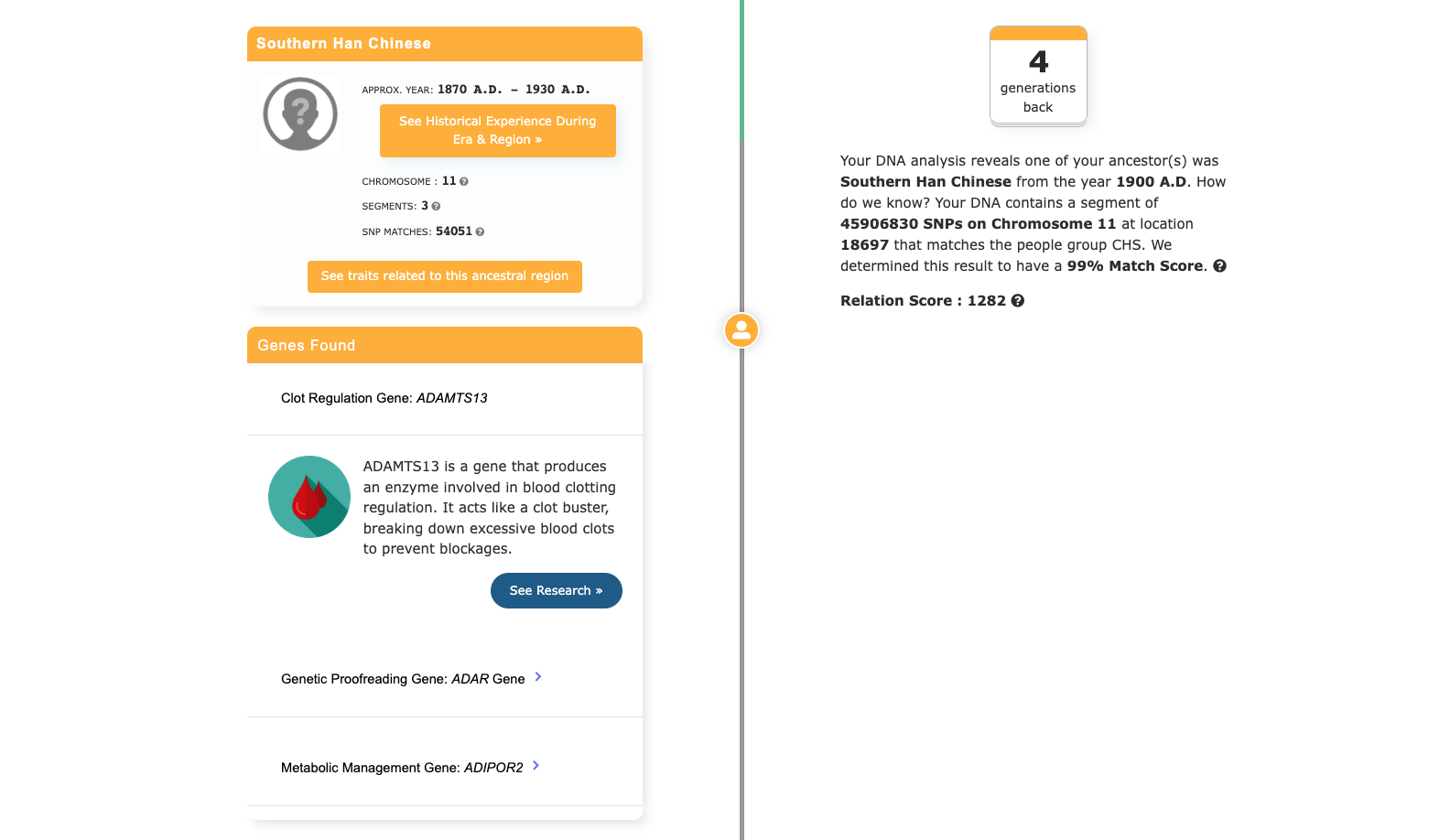 All right, you probably already know that genetic reports can tell you what genes you have and how they affect you. Plus, they can also shed light on your ancestry. That's pretty standard stuff.
But have you ever wondered where your genes came from and when they entered your ancestral timeline?
Introducing "TRAIT TRACER", the coolest kid on the ancestry block.
You can now learn where certain traits come from by looking at your ancestry. With CRI Genetics' Trait Tracer Report, you can discover which ancestries could have given you some of your genetic traits.
In this article, you'll learn all about the Ancestry DNA Trait Tracer Report. We will also get into how you can get your hands on it before anyone else and what insights you can get from it. So, let's dive right in.
What's Included in the Ancestry Trait Tracer Report?
The Trait Tracer essentially sheds light on how your ancestry and traits are connected together. It can tell you all of the following:
Which ancestry gave you which traits (Ex: Southern Han Chinese)

 




An estimate of which year(s) each ancestry showed up in your family line (Ex: 1900 A.D.)

 


Health reports(and traits) connected to each ancestry (Floral Fragrance Detection)

 




Inherited genes associated with those traits (Ex: the Cell Growth gene)

 
It's going to look like this in your customer vault:
💡 Suggested Reading: how many generations back can a DNA test trace your ancestry?
How is CRI Genetics Ancestry Trait Tracer Different from the advanced timeline report?
Trait Tracer adds another dimension to your family history. Your Advanced Timeline shows you the where and when of your past, but now, you will also be able to see the traits you inherited from each of your specific ancestries.  
Here's a list of exciting traits you may find nestled alongside their historical context: 
Hunger Control 
Bone Builder 
Immune Superhero 
Alcohol Metabolism 
Joint Cushioning 
Stress Response 
It's a little intriguing, no? Trait Tracer takes you even further than your Advanced Timeline, offering you more insights into the ancestries that led to you, as well as historical context, including what was happening during each era and period. 
💡 Suggested Reading: How Does the Advanced Ancestry Timeline Work?
How much Does the CRI Genetics Trait Tracer Report Cost?
The Trait Tracer Report is FREE AND ONLY AVAILABLE for CRI Genetics subscribers currently. Subscribers will automatically have their Trait Tracer Report unlocked within the portal on August 15th at noon PST or one hour before if you can snag a spot on the early bird list.
Non-subscribers must become VIP subscribers to enjoy this new and exciting feature.
With CRI Genetics' VIP Subscription, you can: 
Get

Trait Tracer, 6 credits, and a Yearly VIP Subscription

TODAY—all for

$99!

 

Get the 

Trait Tracer Report

 to learn more about the traits discovered in your Advanced Timeline

 

Get

6 credits today,

immediately available (3 bonus credits for your first month)

 

After that, use 3 credits each month

for any report you want, with new reports released weekly

 

Enjoy

36 credits each year

as a yearly subscriber

 

(get 39 your first year)
That's

$2.54 for each credit

with a VIP List Subscription!

 
Can CRI Ancestry DNA Trait Tracer Tell Me the Names or Identities of Certain Relatives?
Unfortunately, no. We don't do that just yet. Right now, we only identify ancestries in your family line and traits associated with those ancestries.
We know it is disappointing for some people. But on the bright side, our Trait Tracer Report bridges the gap between your ancestry and traits. It offers insights into both your lineage and inherited traits at the same time.  
We currently don't offer family finder services. But don't let that discourage you though, as there are plenty of illuminating insights to be found within your DNA regardless!  
 And look at it this way: sometimes it's good to draw information and inspiration from many sources. The treasures that your ancestors left you may be hard to find, but some of the best things in life are worth searching for.  
Suggested Reading: Top 5 Irish Ancestry Surprises All Irish Should Know
Will there be an additional cost for the trait tracer report?
No, the Trait Tracer Report is included in your CRI Genetics subscription. You don't have to pay anything to get it.
However, if you don't have a CRI Genetics subscription, you can't access the report. But no worries there – you can get the Trait Tracer Report, 39 credits (6 your first month, and 3 every month thereafter), and a Yearly VIP Subscription for only $99! 
How Do I unlock the trait tracer report?
If you are a CRI Genetics subscriber, you don't have to do anything. Your Trait Tracer Report will automatically unlock within the customer vault on August 15th at noon PST (3pm EST).
If you haven't subscribed to CRI Genetics, you can't access the report. Currently it's only available to subscribers and you will need a subscription to get yours.
how Can I be Sure to Get the Trait Tracer Report?
The best way to ensure you get the Trait Tracer Report when it releases is to:  
Make sure you're a CRI Genetics VIP Subscriber!  
You're free to cancel your subscription at any time, but you must be an active subscriber in order to unlock your Trait Tracer Report. Trait Tracer is FREE for CRI Genetics subscribers. If you're not a subscriber yet, a new ancestry product is the perfect excuse – they don't come around often! 
Second, Make Sure You're Signed Up for the Early Bird Access List!  
If you are a subscriber, you can get your hands on the Trait Tracer before anyone else by signing up for the Early Bird Access List. We don't want to overload the server once the report releases, so the early bird list will help with potential overload on the system.
What's the science behind the trait tracer report?
The Trait Tracer Report is based on a special algorithm developed by Chief Science Officer, Dr. Alexei Fedorov. The culmination of years of genetic research, Trait Tracer gives you a more detailed picture of your Advanced Timeline. This groundbreaking feature lets you see specific genes within your ancestral timeline. These genes are connected to specific traits and ancestries, taking the narrative of your familial past to the next level. 
From your DNA Test , we create a measurable timeline that can show you when and where certain ancestries entered your family history. Trait Tracer now allows you to see which traits and genes are connected to different ancestries.  
When is the trait tracer going to launch?
Your Trait Tracer Report will be available in your CRI Genetics account on Tuesday, August 15th, at noon PST (3pm EST).
The Early Bird Access List gives you access ONE FULL HOUR beforehand (11am PST, 2pm EST) to check out your Trait Tracer Report before everyone else.   
For Early Bird Listers: you will receive a secret link in your email that gives you early access. 
Trace Your Ancestry and Traits with the trait tracer report
You can now track your traits throughout history. You can find out more about your ancestry and understand the genetic legacy that makes you who you are.
You will now be able to find out an estimate of when your sweet tooth DNA could have entered your family line and learn more about what ancestry could have been involved in your love for desserts – all while you chow down on that delicious cheesecake.
Get ready to learn more about your past as we work on unlocking the secrets hidden in your DNA. So, what are you waiting for?
Get Your Trait Tracer Report NOW 🥳
🗺 If you're a current subscriber, you can visit your portal page here to unlock your report.
🧬 If you've already had your DNA tested, but aren't yet a subscriber, you can check out CRI's current deals on Trait Tracer and subscription here.
👀 If you haven't had your DNA tested with CRI Genetics before, but want the Trait Tracer report, or to explore all of CRI's ancestry health reports, you can find out more here.