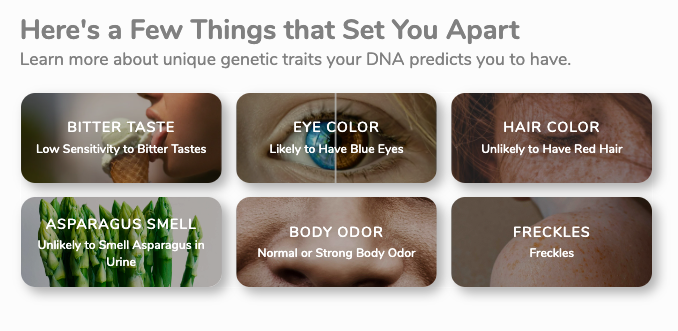 Whether you're a CRI Genetics customer or not, we're here to reveal the top 7 customer portal features inside the vault.
Non-customers: this next part is like a free tour of everything you'd get once you buy a DNA kit, and who doesn't like a free tour?
Customers: you may think you know the customer portal inside and out, but are you really using the vault for all it has to offer?
Only one way to find out!
I hope your eyes are ready to do some "walking" because your free tour begins now, genetic explorer. If you'll please follow me to door #1 below:
The CRI Genetics Customer Portal/Vault
You're going to see this (if you're on desktop) when you first sign into the portal.
If you want to see the demo portal (yes, non-customers can see it, too!) you can provide your email on CRI Genetics' homepage for immediate access. If you're already a customer, you can log into the vault here by entering your email and password.
Don't be overwhelmed—there's a treasure trove of genetic information to explore about yourself but take it one thing at a time.
Don't hesitate to go back and forth between this page and the demo/customer portal as you understand more about how it works.
Now, let's see what these top 7 vault features are all about!
#7. Education Center (in Video Form)
Location: bottom center of screen, below "Your Health and Wellness Reports are Ready!"
If you want to build a strong foundation and understand how genetics work, this is a great place to start. The YouTube videos are self-explanatory, but they delve deeper into genetics, DNA testing, and what you might be able to use your health reports for—go ahead, check 'em out and see what new things you can learn.
If you want to see what other videos CRI Genetics puts out, you can check out their YouTube channel here.
#6. Fan-Favorite Reports
Location: bottom of the vault, above "Your Health and Wellness Reports Are Ready!"
Throughout the rest of the portal, you can also find "Things that Set You Apart" or various other reports like Famous People You're Related To or the Maternal Haplogroup Report. These are also present in the sidebar too, but you may have to look harder or use the search bar if you're looking for something more specific.
The column to the far right of the vault also displays popular reports and blog articles, as well as kit offerings for friends or family. All of this can be found under the "Notifications" section.
#5. Recently Released and Personalized Report Section
Location: Top of the page, just below the report search bar
Front and center, the recently released report and personalized report section is great for a few reasons. For one, upon signing into the portal, you'll always know which report has been released for the week—and we release a new report every week, as part of our Fun Fact Friday email (for subscribers only).
The personalized report suggestion is doubly amazing because it will suggest reports to you based on your behavior inside the vault. Do you prefer Nutrition-related reports about vitamins and minerals? The portal will suggest reports in different or similar categories that are adjacent. How cool is that?
#4. Search Function (Find Any Report)
Location: top of the page, titled "Search Reports"
The nifty search bar allows you to type in anything you're curious about. If we have the report, the search bar will begin to show you results. Curious about lactose intolerance or gluten sensitivity? See if they come up in search!
Look at all the reports that come up when I type the word "Memory."
Type it in, hit enter, and see which reports are available. Some reports may be locked depending on the membership you have, but don't fret–you can purchase a subscription at any time if you've purchased any kind of report or package already.
#3. Your Origin Story (Your Ancestry Results Are Ready)
Location: Middle of page, button near map that reads: "Read your origin story"
This is usually the first thing people click on, and with good reason—who wouldn't want to know their origin story? That is, after all, why so many people order DNA kits—to find out more about where they've come from!
Once you land on your Recent Ancestry Analysis, you'll see a map with markers noting countries where your specific DNA matches markers most prevalent in those regions. In other words, using reference populations that are well documented and studied, we compare your DNA and match it to people with similar DNA to give you regions where "your DNA has traveled."
This can be confusing, but remember that borders changed hundreds of times, people migrated, and pivotal events shaped how and where people lived and traveled, so if you're surprised about your results, you're not alone. If you have more questions about that, our customer service team is more than happy to answer your curiosities.
You'll see an ethnicity wheel on this page too, which breaks down your ancestry percentages based on your sample and reference populations. Click around, explore, ask questions—have fun with it. Advanced Analysis, Ancestry Timeline, and the Haplogroup Reports will deliver entirely different information so make sure to check out all of it. Keep in mind that you may only see portions of the full report in the demo sample.
#2. Chat Option
Location: Top right of page in the "Need Help?" dropdown [We're Online, Let's Chat!]
Don't underestimate the power of the chatbot! The chatbot could either be an automated response from an AI assistant that reroutes you to a human, or it could be a human right from the start. There is always the option to make a call to customer service as well. This is where you can ask whatever you want! CRI Genetics is praised for a customer service team that is responsive, thorough, and helpful. Don't believe me? Test it out!
You can ask anything about ancestry, the product, or questions about your order. Chatbots can sometimes be very underutilized because people don't know about them, or they get frustrated with the wait times, but CRI Genetics' chat option is top-notch.
Of course, all of this is subject to change depending on customer volume, but for now, try it yourself and see if you can find answers to your questions.
#1. Ancestry + Health Reports
Location: Left sidebar
The sidebar in the portal is the treasure chest of all ancestry and health reports. CRI's base product will always deliver the same ancestry reports: Recent, Advanced, and Timeline, as well as 15 Basic Trait Reports, which are sprinkled throughout the different health categories in the sidebar. Caffeine Anxiety, for example, can be found in the Energy section.
Maternal, Paternal, and Famous People Reports are available as upgrades, and prices are subject to change, but you'll have a chance to decide if you want those reports before you get to the checkout for each of those items.
There are more than 100 health reports included in the Health + Ancestry product. Each report is packed with useful and actionable information and the insights are yours to keep forever!
Look deeper into one of the unlocked reports and take all the time you need on these pages. They'll tell you your genotype for a trait (whether you're likely to have high or low caffeine anxiety), the difference between genotype results, that trait's impact on your life, a plethora of fun facts about the trait and how it relates to real life, and finally, tips and tricks to follow (a.k.a. actionable advice) if you want to make more informed decisions and bring change to your life.
Uncover the Genetic traits that make you unique
If you're still unsure about the portal or have questions, use our live chat button in the bottom right hand corner of the screen, and get in touch with a customer service representative.
Admittedly, we have one of the best teams around, and we're frequently praised for this among DNA testing companies. Don't be shy. They're happy to answer any questions you may have.
Other than that, it's up to you if you want to take the next step. You get out of the reports what you put in. With our search function, more than 100 health reports and an Ancestry Timeline going back 5x further than the competitors', I guarantee you'll learn something new and exciting about yourself.
That doesn't even begin to cover how cool the Trait Tracer Report is (our latest release)!
So, what are you waiting for?
Now that you've seen the top 7 coolest features in the portal (which we are always improving based on customer feedback), are you ready to set sail with us?
For more information concerning DNA testing and how to select the best form of testing for your needs, click HERE.
There is a treasure trove of information waiting to be uncovered.