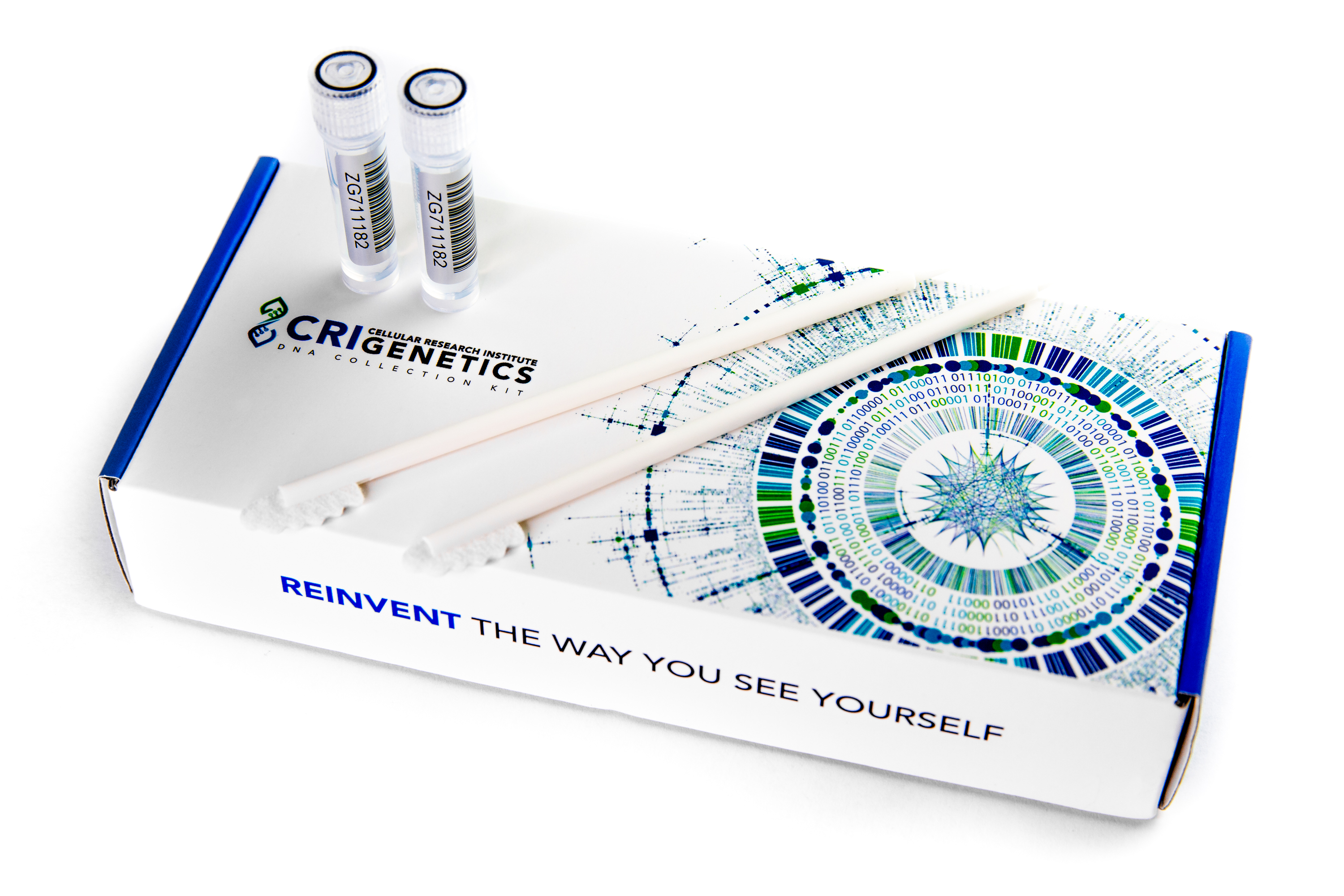 If you're looking to uncover the secrets hidden inside your DNA, a DNA test kit from CRI Genetics can help. The insights you'll discover are invaluable and timeless.
Below you'll find more information about our test kits, as well as answers to some of our most common questions.
Here's what included inside your CRI Genetics DNA test Kit:
2 swabs

2 vials

Easy instructions

A special sealed bag to contain the vials

Free postage-paid shipping
Kit

Registration

&

Sample

Collection
How do I register my DNA test kit?
The kit can be registered here: https://vault.crigenetics.com/register
Kit numbers are 2 letters followed by 6 numbers. Kit numbers can be found on your kit box, vial, or biohazard collection bag.
Fill out all fields of information.
Click finish when all fields are filled out.
What should I do before collecting my samples?
First, don't forget to register your kit!
Next, to ensure your sample will be optimal for the testing process, please make sure that there is no foreign substance inside your mouth before you perform the swab and refrain from eating, drinking, or even chewing gum for 60 minutes prior to swabbing.
Additionally, DO NOT let any liquid leak from the vial. This preservative is essential to us receiving your sample intact.
How do I take a DNA sample?
To achieve an optimal sample, please use the swabs to collect the DNA from inside your cheeks. One swab should be used on each of your cheeks. Please use an upward and downward motion when taking your DNA sample.
Next, follow these steps:
Avoid taking your DNA in a circular motion as this might cause the tip of the swab to accidentally detach from the body.
Next unscrew the lid of the vial and insert the tip of the swab. Detach the tip of the swab by pressing against the top end on the stick, then seal the vial.
Repeat using the second swab on the opposite check. Unscrew the lid of the second vial and insert the tip of the swab. Detach the tip of the swab by pressing against the top end on the stick, then seal the vial.
Then gently place both vials inside the biohazard bag. Next, place the biohazard collection bag containing your DNA sample vials into the pre-paid shipping box.
Secure the box with the double-sided tape.
Lastly drop your DNA sample box into your local mailbox.
Can multiple people use the same dNA collection kit?
The kit is assigned to only one person and will be identified as a kit number. Therefore, no—each kit is designed for only one person.
What should I do if I forgot to register my DNA kit before sending it back?
If you sent your DNA kit back to the lab without registering, don't panic—it happens! You may still register after you have the kit number. If you don't have the kit number anymore, please contact our customer service team and we will be happy to assist with the registration process and provide your kit number.
Please contact our customer service via email support@crigenetics.com or chatting with us by clicking on the bottom right chat box or calling us at USA 1-800-571-9216; UK +44-800-368-8243 or you can chat with us by clicking the CRI Genetics Logo at the top of the screen. Then click on the chat box on the bottom right of the screen.
Order Status & Results
When will my CRI Genetics results be available?
Your results will be available within 8 weeks after the lab receives your sample. As soon as your results are ready, you will receive an email to login and view them online.
If you have paid for Fast Processing, your results will be available 3 weeks from the time our lab receives your sample.
Did the laboratory receive my samples?
After you mailed your samples, please allow a few business days for your Kit to be delivered to our laboratory. As soon as the kit arrives, you will be able to see and track your kit on your dashboard.
How do I track the status of my samples?
You will receive a notification once your samples are received in the laboratory.

Status updates are also sent via email for the progress of the reports.

You may also check your online account to see which stage your reports are in.

If you do not receive the notification email, please double check your SPAM/JUNK folder.
Account Login & Reports
How do I log into my account?
Visit our website https://vault.crigenetics.com/auth/login
Click "Login" from the official website in the top right corner of the screen.

Enter your username/Email.

Enter the password you chose for the account, then Click "Login."


You may also use your Facebook or Google account to log in.
How do I download a copy or PDF of my reports?
You may download a copy (digital versions) or PDF of your reports at any time. You may also print them off yourself. If you'd like to download or print digital copies of your reports, please see example of picture below.
How much does a CRI Genetics DNA Test Kit cost?
Please go to our
website
to check out all our current prices and offerings.
We have haplogroup reports that can tell you your paternal haplogroup (for those with a Y-chromosome), maternal haplogroup, and even famous people you may share DNA with!
For a quick refresher, ancestry DNA testing allows you to:
Explore the regions your ancestors came from.
Learn where your ancestors migrated from and when they changed locations.
Connect to your past and reinforce your own place in history.
And that doesn't even include the amazing insights you can uncover with our health reports.
Curious what your DNA says about you?
Learn more about who you are.
With a simple swab of your cheek, we can analyze 527,414 markers on your DNA and compare them to scientific research so that we can show you all the ways in which you are unique.