You deserve a first look at the quality of all the reports you'll be getting.
Let's take a free tour of those Nutrition + Weight Loss Reports!
For example, your Nutrition Reports will be broken down into four important categories:
Nutrition Reports can help you discover which vitamins may help you properly nourish your body with what it needs
Energy Reports can tell you of your genetic markers related to sleep, caffeine, and exercise so you're more informed about your health
Brain Health Reports unveil the inner workings of your mighty mind so you can understand why you seek what you do
Beauty Reports can clue you into aging factors around your skin, hair, nails, and youthfulness so you can age with grace
It all begins on your Dashboard revealing your genetic markers as it relates to specific traits, such as our Omega-3 Absorption Report, which will tell you how likely you're able to absorb Omega-3 based on your genes.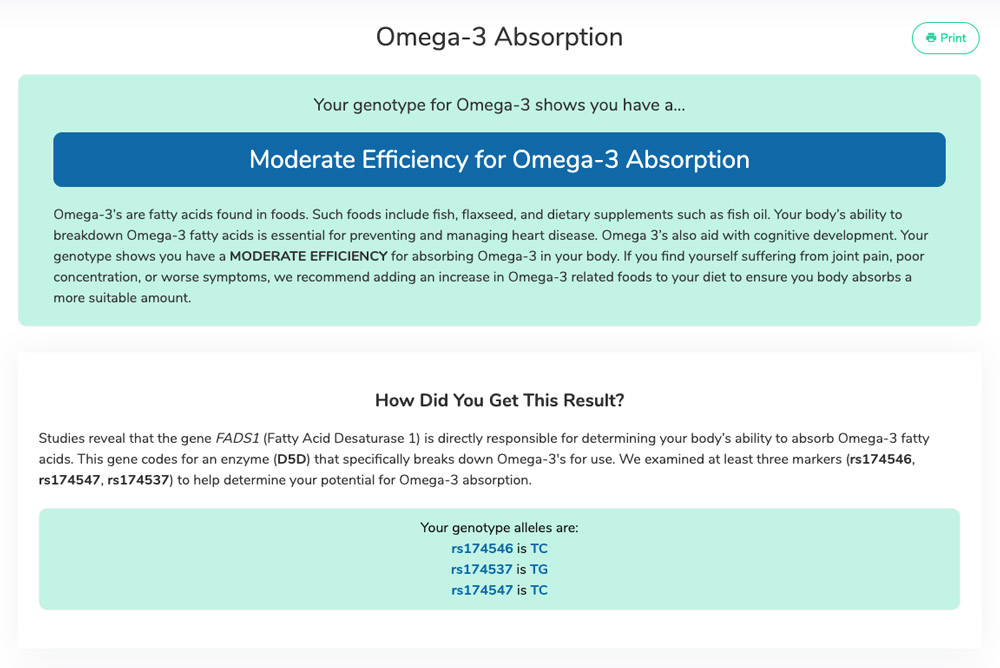 Of course, there are other factors outside of genetics that can affect your body and health, like your lifestyle and diet. Having said that, your genes are a great predictor of how your body will interact with the world, but how your genes express is not always set in stone!
In addition to receiving Nutrition, Energy, Brain Health, and Beauty Reports, you'll also get a Nutrition Optimization Guide, which is just the beginning of your personalized nutrition journey. Your body—your DNA is packed with information. We use the clues found in your Nutrition Reports and your answers to the lifestyle quiz to provide you a comprehensive action plan that incorporates high-quality supplements to meet your needs.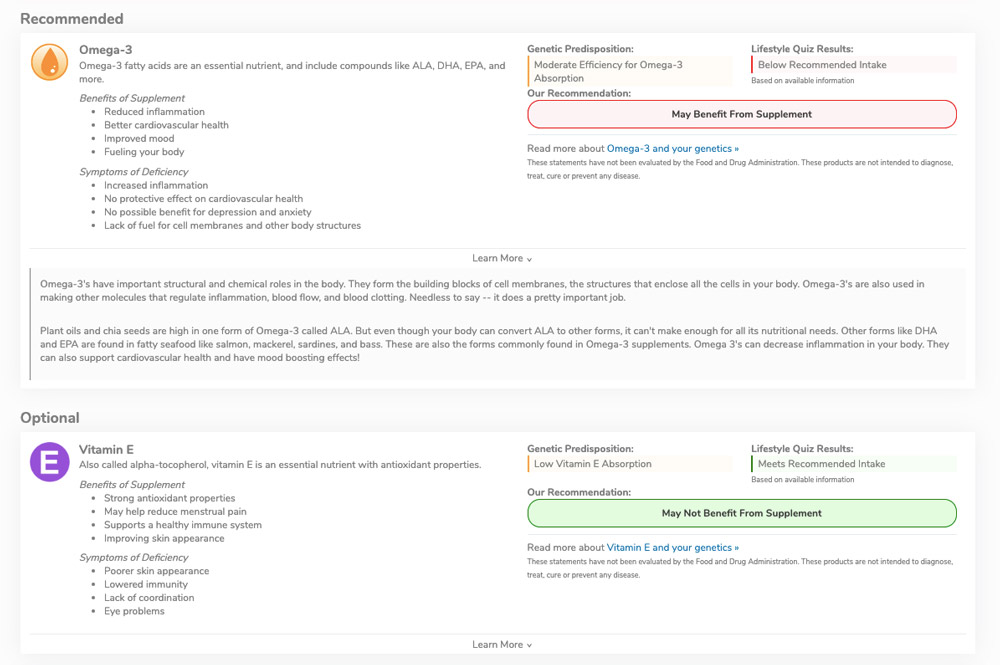 We can recommend supplements to help you achieve your health goals.
Next, your Weight Loss Reports, which are available as an upgrade, will be broken down into four important categories:
Wellness Reports can uncover your body's predispositions so you can make more informed decisions about which foods to eat and how much
Weight Loss Reports can provide your personalized blueprint for weight loss, customized to your body's potential strengths and needs
Metabolism Reports can unveil your body's genetic profile when it comes to BMI and fat retention, so you can better plan for your diet and fitness goals
Unique Trait Reports delve into the secrets of your DNA you've likely never heard before, such as traits related to your eyes, ears, hair, and sense of smell!
In addition to Wellness, Weight Loss, Metabolism, and Unique Trait Reports, you'll also receive a Weight Loss Optimization Guide. This personalized guide combines the genetic clues in your Weight Loss Reports with your lifestyle quiz answers to suggest a daily macronutrient allowance broken down into fat, protein, and carbs to meet your needs.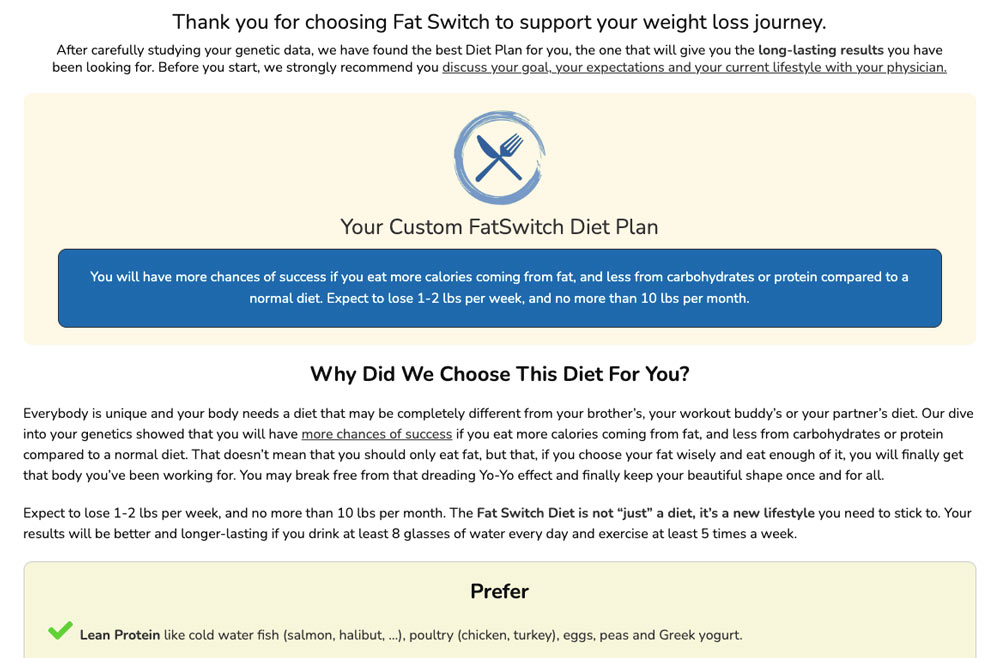 Get your daily macronutrient recommendations based on your unique DNA.
Whether you're looking to boost your energy levels and live with more vitality, or improve mental acuity and stay sharp, we can recommend supplements to help you achieve your health goals.
Each group of reports provides something different and can teach you something new about yourself. You have the freedom to do what you want with the information, but you'll likely know more than when you started. What can be more useful or timeless than knowing more about ourselves and how our bodies work?
First, the Nutrition package offers dozens of in-depth reports. Take a look at one of the Energy Reports for example, which provide a wealth of information related to sleep, caffeine, and exercise. The Caffeine Metabolism Report tells you your genotype related to that trait.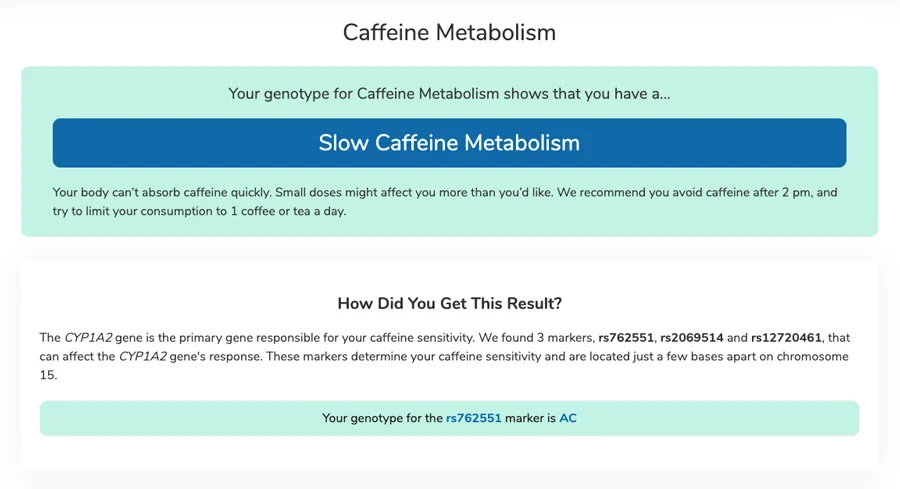 Nutrition & Weight Loss Reports Delve Deep into What Makes You Tick
Each trait you discover about yourself is accompanied by a detailed list of "Did You Know?" facts that add even more to your knowledge of YOU.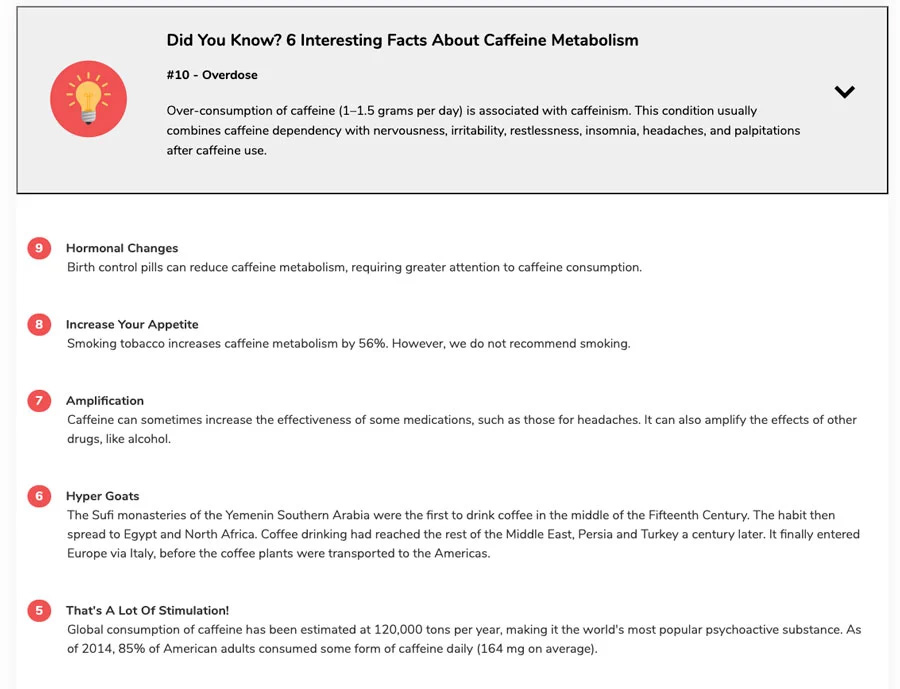 And that's just the beginning! You'll also receive in-depth information about each trait's impact on you, and actionable ways to make changes—all in one place. Sometimes we don't know what we should be doing, and that's okay. But DNA can help you learn your body's predispositions so you're more equipped with how to take on any day.
Some of those favorite actionable pieces named by our customers include:
Which foods to eat to get more of a vitamin into their diet
Ways to harness cognitive dietary restraint for faster weight loss
How to reduce stress through both short- and long-term methods
How much caffeine to drink for optimal vitality and productivity
Optimal sleep conditions for catching the most zees based on DNA
AND THERE'S MORE!
Your DNA test results are an owner's manual for your body you can use to achieve any health goals you have…
Weight loss, for example…
A DNA test can reveal the ideal diet that's best for you.
With CRI Genetics, you get insights down to specific nutrients and supplements your body is likely to need more of.
Your DNA can even tell you what exercises are best for your body!
The wealth of useful insights a CRI DNA test can give you about yourself is unprecedented.
Bringing it all together—the Optimization Guides and 80+ health reports
Knowledge about yourself is at the heart of it all.
Imagine someone wrote a book about you.
Wouldn't you want to read it???
That's what your DNA is. Right now, it's locked in a vault (your body). To make matters even more complicated, it's too small to see. On top of all that, it's written in a language you can't read!
A CRI DNA test is a safe, effective, and thorough way to translate that book into something you can read.
It tells The Story of YOU. A story that's not just interesting, it's useful.
As Aristotle once said: "Knowing yourself is the beginning of all wisdom."
So, what are you waiting for?
Learn more about what CRI Genetics can do to help you unlock the treasures hidden in your DNA.
Sincerely,

Alexei Fedorov, PhD & The CRI Genetics Team